Growing up, Erik never thought he would get into shape. His defeatist attitude – combined with sheer laziness – led to him packing on the pounds over the years.
With his 30th birthday approaching, he decided to make a change. He started training at the FVT studio about a year ago – and since, he's dropped 60 pounds, over 16% body fat – and changed his life forever! Not only has his fitness level improved dramatically, he is now energetic, vibrant, strong, and happy.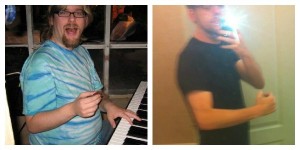 Congrats Erik!
If you haven't yet, see Erik's full story – and 14 more like it – on our Yelp page, here:
=> FVT on Yelp
That's all I got for 'ya today. Get pumped. Get fired up. Be inspired by Erik's success, and make TODAY the day you improve your fitness and change your life – for good.
Forest
PS – We are currently offering free 'Test-A-Trainer' sessions for prospective new clients at the FVT Studio – but space is limited, and spots are filling fast. To reserve your session, simply respond to this email, or call us at 916.273.9366. Thanks 🙂