This last Saturday, we finished up and celebrated what turned out to be the most successful FVT Rapid Fat Loss Challenge EVER.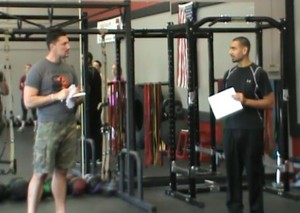 Jimmy B, winner of the FVT Rapid Fat Loss Challenge and $300 in prize money – lost 15.4 pounds and 8.17% of his body weight in just 30 days!!
A couple of pretty darn impressive stats –
Six

people in double digits (

that's 10 pounds or more of weight loss in 30 days

)
126.4 total pounds lost – among a total of 15 participants that made the final weigh-in.  That's an average of 8.43 pounds per person!
Jimmy B (pictured above) took 1st place – with a total of 15.4 pounds lost and 8.17% of total body weight … Nichole W came in second, and also lost 15 pounds/7.72% … and Scott S was in third with 16.4 pounds/7.17%.
Honorable mention to Eric  Z, Vai S, and Ryan A – all also in double digits of weight loss.
I am just blown away.  Awesome, awesome job to everyone!
Now, if you're interested in getting similar results, but:
Missed the challenge registration
Aren't in the Sacramento, CA area
Weren't able to participate for any reason
I wrote up a quick recap of what the top challenge finishers did to get such amazing results.
How to Lose 15.4 Pounds in 30 Days – Top 3 Tips
1 – If you want to lose weight, you have to focus on your diet.
No bones about it. When it comes to getting those #'s to move on the scale, it's all about the diet.
If you want something basic – but effective – check out this post:
=> EASY Fat Loss Meal Planning
It'll walk you through a day of clean eating.  And, I think you'll be surprised at just how easy it can be! 🙂
Also – the "official" meal plan we used in the Rapid Fat Loss Challenge was carb cycling.  This approach is a little more sophisticated, for sure … but if RAPID plateau-busting and fat loss is what you're after, it's a great way to go.  More details about that coming very soon.
2 – Commit to a workout schedule – and make it happen, no matter what!!
Having a specific, directed and realistic workout schedule – and sticking to it, no matter what – was key for our challenge winners.
Heck, the top two finishers both have small children, under two years old … so if they can do it, so can you! 🙂
Here is a basic – and free – workout plan to get you started:
(You could do a workout like this three – four times per week, with "easy"/light 30 minute cardio days in between.)
3 – Set a specific, realistic goal – and make it happen!!
I can attest personally to the power of this practice. Doing this when I played football at the college and pro level made all the difference, as did when I lost over 60 pounds in about seven months, and, more recently, when I started my personal training business.
If you want all the details on the power of – and exactly how to go about – setting goals, check out this popular post on ForestVanceTraining.com:
=> 3 Steps to Make 2013 Your Best Year Ever 
To sum up, THANK YOU again to all the Rapid Fat Loss Challenge participants for an incredible job well done.  We had a great time at the challenge, and learned a lot in the process.  Look forward to doing it again very soon!
– Forest Vance, MS, CPT, FNC, RKC II
PS – Get TONS of cool (and free) clean eating and KB training tips like the ones covered in this article, delivered straight to your email inbox on a regular basis – when you sign up for my email newsletter.  Sign up now – for free – in the upper right hand corner of this page.