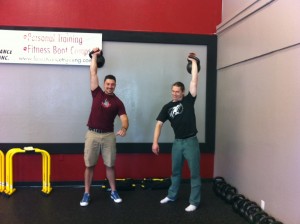 June 15th, 2013 Kettlebell Workshop in Sacramento, CA with Forest Vance and Logan Christopher
GREAT day at the FVT Studio this last Saturday, June 15th … we had kettlebell expert and "Physical Culture Renaissance Man" Logan Christopher up from the Santa Cruz area to co-host a day-long kettlebell workshop with yours truly.
Had a lot of fun doing it, and a big thank you to all who attended!
Every time I attend or put on one of these workshops myself, I learn so much.  I think the biggest take-away from this one – that you can apply immediately to YOUR training and fitness program – was that the more you learn, the less you realize you know.
I have been training with KB's for more than half a decade now myself, and have taught others how to use them on a daily basis in one form or another for almost the same amount of time … I've attended multiple kettlebell certifications, seminars and workshops, assisted at and put on many others myself … but co-hosting this workshop with Logan was a great learning experience for me.  I learned many new tips, tricks, and training techniques that I can use to ultimately help YOU reach your ultimate fitness goals faster and easier!
Train hard, and never stop learning –
Forest
PS – If you missed our workshop this time around, not to worry … we filmed the entire event and will be transforming it into a full-blown, multiple-DVD kettlebell training course.  Stay tuned for details in the coming weeks …