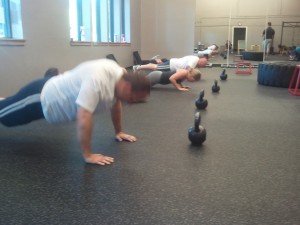 The FVT 3 year anniversary party is less than 2 weeks away! It's going to be a lot of fun …
One of the BEST parts of last couple of anniversary parties we've held were the free Bring-A-Buddy boot camps. So we've decided to continue the tradition …
We're going to hold TWO free boot camps on the 19th – one at 10am and one at 11am.
All current clients are welcome to attend. You are also encouraged to bring a buddy. It's a great opportunity to bring a friend, family member, co-worker, etc. in to check out the program in a easy no-obligation way.
Members of the community and anyone else interested in training at our studio is/are also welcome to attend the Bring-A-Buddy boot camps as well!
— IMPORTANT! —
If you'd like to attend one of the free FVT boot camps on October 19th, you need to reserve a spot ahead of time. We will have two sign up sheets at the studio starting this afternoon (the 7th of October) – one for the 10am class and one for the 11am.
Space is limited to 20 folks at each boot camp – so if you'd like a spot, make sure to get signed up quick.
You can also email me if need be – but I'd MUCH prefer you do it yourself at the studio if possible. Thanks for understanding about this and being cool 🙂
That's it for now! Thanks, have a great day, and talk soon –
Forest