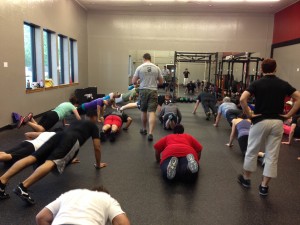 One thing we hear over and over from our long-time clients is that we have a somewhat unique environment at our training studio …
We are very supportive and positive at all times. No yelling and screaming or anything like that. A lot of people expect this when they hear "boot camp". But we take pride in our workout environment being friendly and welcoming to all.
On the other hand, our workouts are ALWAYS challenging. In fact, they typically go beyond simply "challenging". They are often flat out BRUTAL! But this is many times just what you need to take your fitness results to the next level …
I thought I'd share you with a particularly tough "finishing" sequence we did at the end of yesterday's boot camp sessions. More than one person lost their lunch at the end of this one.  I think that more or less speaks for itself 🙂
This sequence can also be done with ZERO equipment – so it makes for a perfect session for you to try at home, etc.
###
Hardest FVT Workout Ever?
20 jumping jacks
~ 15 yards bear crawls
20 side to side hops (skater hops)
repeat tri-set as many times as possible in 5 minutes
IMMEDIATELY followed by …
"liner" cone sprint (sprint to line 5 yards away and back, then 10 yards away and back)
rest for the time it takes your partner to do the same
switch back and forth and get as many rounds as possible in 90 seconds; rest for 30 seconds; repeat
Try that one at the end of your next workout, and let me know how it goes –
Forest Vance
Owner, Head Trainer, Forest Vance Training, Inc.
PS – Made your FVT Train-A-Trainer Donation yet? Get the details – and revenge on your trainer – HERE
PPS – We've got six spots left at the 11am Bring-A-Buddy boot camp this Saturday. Shoot me a message HERE – or sign up at the studio – to grab yours while it's still available.