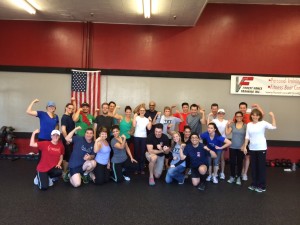 Happy Holidays from FVT!
First, a big THANK YOU to everyone who came out for the FVT/Wellspring Women's Center Charity Boot Camp event on Saturday, December 21st.
We were able to raise almost $500 in cash and a HUGE amount of donations for the cause.
If you participated in yesterday's charity event, or any of the other events we've organized throughout 2013, you rock 🙂 In total, we have raised over $5000 as a group for local Sacramento charities this year, such as:
– The Muscular Dystrophy Association
– The Sacramento SPCA
– The Alzheimer's Association
– The Wellspring Women's Center
And we couldn't have done it without your help. THANK YOU!!
Looking back at 2013, it's been an incredible year. We've had the good fortune of helping thousands of folks like you – at boot camps, small group and personal training programs at our studio, in-person workshops and special events, and online via our email newsletter, websites, YouTube videos, and social media presence – reach their fitness goals.
It was a breakthrough year in terms of business growth and numbers of people that we helped both locally in the Sacramento area and around the world. We are thankful every day for the business we are in and the positive impact we can have on people's lives.
Happy Holidays to you and your friends and family, and here's to a great 2014!!
– The FVT Team