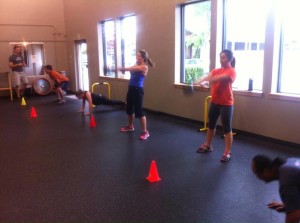 WoW!  We are off to a fast start with Rapid Fat Loss Challenge registration.  The truth is with our current set up we can accommodate 35 people, 40 MAX for this event … so we will have to cut off registration at a certain point if it keeps going at the current pace.  Just FYI 😉
Get details on the challenge and reserve your spot here:
=> 2014 FVT 30 Day Rapid Fat Loss Challenge
Now the Challenge does not officially start until the 18th of February.  But you should most definitely be doing some things to prepare.  Here are three tips to help you get ready for the FVT Rapid Fat Loss Challenge:
1 – Work out at least three days per week
If you're not working out at all right now, start right away. You'll be off to a MUCH faster start if you've got at least a baseline level of fitness developed when you start the challenge.
Don't know where to start?  Try this 15 minute body weight – only workout:
2 – Start logging your food
We will be logging our food for the duration of the challenge, and it's SO key to your success. Get in the habit starting now. My favorite tool is MyFitnessPal – they have an app for your smartphone and it makes it super easy.
You will probably find that just the exercise of logging your food makes you much more aware and as a result you end up eating better.
3 – Get social support
You MUST have your friends, family, and co-workers on board with what you are doing for maximum success. So take this opportunity to talk with them and let them know you'll be participating in this challenge, and get their support with making healthy food choices, supporting your daily workouts, etc.
Okay that's all I got for 'ya today.  If you're thinking about registering for the Challenge, make sure to reserve your spot as soon as you can HERE.  And we'll talk soon!
– Forest Vance
ForestVanceTraining.com