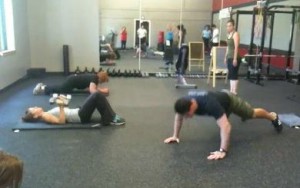 We have been getting a lot of questions about the diet approach we'll be using for our upcoming 30 Day Rapid Fat Loss Challenge.
Here is the thing. I am not a big believer in diets. I think it gets folks in the wrong mindset. A much better and lasting approach is to look at it as a shift in eating habits in general, for the long haul.
That being said, part of the point of the challenge is to provide you with a blueprint, an exact plan of what you need to do to lose weight as fast as humanly possible.  And I am always learning and trying to stay on the cutting edge of new research in nutrition and exercise, so I make sure to update and improve and tweak things each time we do a challenge.
I thought I would provide you with a sample day of eating, so you could get a "sneak peak" of what we'll be doing.
And, of course, even if you don't end up signing up for the challenge, hopefully this sample meal plan will be useful to you as well!!
Notes:
**  This meal plan is for an approx. 150 pound female, and would be adjusted up or down depending on your specific situation.
** I have no financial motivation for recommending shakes and bars here. I am not trying to sell nutritional products or anything. It is just more convenient to be frank and is what I do myself.  We will provide different meal plan variations though if you decide to sign up for the challenge.
Rapid Fat Loss Meal Plan (sample day)
7 AM
— 8 oz water
— 5 ice cubes
— 1 serving fruit of choice – apple, orange, etc.
— unlimited veggies – spinach leaves, kale, etc.
— 1 scoop protein powder – whey/hemp/etc.
— 1 tbsp almond butter
11 AM
— 3-5 oz chicken/turkey/fish/etc. (protein)
— salad w spinach leaves, broccoli, tomatoes, cucumbers, etc.
— 1/2 cup black/kidney/garbonzo beans
— 2 tbsp olive oil and vinegar dressing
3 PM
— minimal ingredient, low sugar, low processed protein bar – OR
–home made protein bar (recipe will be in Rapid Fat Loss Challenge guide)
— apple or orange
7 PM
— 3-5 oz chicken/turkey/fish/etc.
— ulimited veggies
— 6 tbsp brown rice
That's it. Easy, right?
Again – if you're thinking about signing up for the challenge, make sure to do it soon, HERE.   And either way, I hope the meal plan above has at least got you thinking about cleaning up your eating in a positive way!!
Thanks, train hard, and talk soon –
Forest