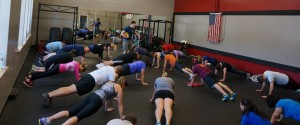 AWESOME job to our Rapid Fat Loss Challengers – and congrats on your success!!
Today I have for you the final results … plus lessons we can learn from the most successful FVT Rapid Fat Loss Challenge yet.
As a group – among the 25 folks who finished the challenge – you lost a total of 181 pounds. That's an AVERAGE of 7.24 pounds per person. Pretty darn impressive!
Our winner of the challenge with 7% of her starting body weight lost was Kellie M. 2nd place with over 6% of his starting body weight lost goes to Ruben M. 3rd place went to Andreas B, with over 5% of starting body weight lost. And honorable mention as well to Erik Z, who also lost over 5% of his starting body weight.
EVERYONE who finished, went down in weight. Again, really impressive, and our most successful challenge yet!!
So, there are a LOT of things we can learn from the challengers and their success. Here are three great ones to start:
FVT 30 Day Rapid Fat Loss Challenge – Recap + Tips for Success
1 – ANYONE can do it
Too often we hear folks say – "oh, I'm sure it CAN be done … but don't think I can actually do it MYSELF"
They BELIEVE it can be done … they just don't think that THEY can do it.
Here's the deal. Men and women both competed in this challenge. People new to exercise competed in this challenge. Folks who have been training at our studio for years competed in this challenge. Folks in their 20's competed in this challenge. Folks in their 70's competed in this challenge. ALL lost weight and made improvements and finished slimmer, stronger, and BETTER than when they started.
DOING is always better than sitting on the sidelines and wondering what might have happened if you tried.
Barring a medical condition or some other reason that you specifically know you cannot lose weight – you CAN. And believing you can is truly the first step.
2 – It does NOT take extreme deprivation, 2+ hours per day of exercise, etc.
The strategy we recommended for our challengers – from a diet and workout perspective – was not extreme. (If you would like a more specific idea of what we did, check out the FVT 7 Day Rapid Fat Loss Blueprint report/package – free – HERE.)
In fact, I am fairly certain most folks went off the "diet"plan multiple times during the challenge. I am thinking average workout frequency was probaby three to five times per week. And STILL we AVERAGED 7.26 pounds lost in one month.
Take a reasonable, healthy approach to your workouts and diet – and you will make steady progress towards your fat loss goals. That's the best way to do it in the long run, and that's really all it takes.
3 – Shred your excuse list and get it DONE
At the end of the day, you just have to make it happen. If you want to change, if you want to lose weight and be more healthy and have less stress and just look great in a swimsuit – commit to a goal, and get it done.
Have a plan to eat right, and stick to it. Have a plan for your workouts, and do them consistently. And you WILL make progress.
It's very simple at the end of the day. Don't over-complicate success. Just show up, and get it done.
Well, that's it for now. Hope these tips and take-aways from the rapid fat loss challenge have helped you. Train hard, have a great day, and talk soon –
Forest Vance
ForestVanceTraining.com
PS – If you're interested in training at the FVT Studio – we'll be doing another challenge in the fall (or possibly sooner) – but our regular boot camp and personal training programs are on-going, and we'd love to have you. Shoot us a message HERE to schedule your free Test-A-Trainer session today!!