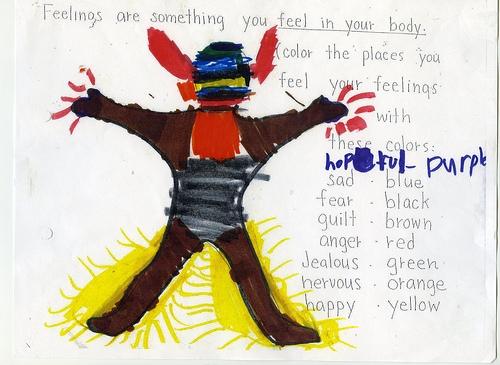 Tucker is eight years old. He recently arrived at the WEAVE Safehouse (our March 19th Charity Boot Camp effort is to support this great cause) with his mom, Janice, after the violence at home became life-threatening.
In addition to physical abuse, both Janice and Tucker were repeatedly told they were stupid and insignificant.
Sadly, Tucker believed what he was hearing. This dejected, broken little boy lost his will to live. He didn't laugh. He had no interest in games or playmates. He told his counselor, Autumn, that he wanted to kill himself.
At WEAVE, far too many children display signs of post-traumatic stress disorder and suicidal tendencies as a result of violence in their homes.
Autumn immediately developed a therapeutic program for Tucker. She asked him to color a drawing of himself, much like the one here. She asked him to use colors to show how he was feeling. For the first time, Tucker spoke about the violence he experienced—an important breakthrough in his healing.
"Thank you for letting me talk about my mom and dad fighting," Tucker told her and smiled—something he hadn't done in months.
Help save the life of a boy like Tucker. Attend our charity boot camp effort at FVT on Saturday, March 19th @10am.
=> Click here to donate as much or as little as you like and reserve your spot at our March 19th Charity Boot Camp effort
100% of the funds raised at this event will go towards WEAVE – an organization that provides an array of services to women, men and children in the greater Sacramento region who have experienced domestic violence or have been sexually assaulted. WEAVE also works as part of the Rescue & Restore Coalition to support victims of human trafficking.
At the same time, this charity Boot Camp workout provides you with a chance to bring friends, family, coworkers, etc. to experience a full Boot Camp workout at the FVT studio.
Or, if you have been following us on our email newsletter, Facebook, etc. it's also a great way to come and check out how we can help you reach your fitness goals.
It's a win-win for everyone!
If you'd like to sign up, the process is simple. Simply click the link below, learn all the details about the event, donate to the cause – suggested donation is $15, you can donate as much or as little as you like – and you'll be all signed up for a spot at our charity Boot Camp.
=> Click here to donate as much or as little as you like and reserve your spot at our March 19th Charity Boot Camp effort
Thanks, have a great day, and talk soon –
Forest Vance, owner, FVT Boot Camp and Personal Training
PS – Questions? Contact us HERE, or call 916.273.9366.
PPS – If you can't make it to the Boot Camp but would still like to contribute, that is great as well! Just be sure to let us know when you donate that you will NOT be attending, as we'll automatically assume that you will 😉