Our 30 Day Rapid Fat Loss Challenge is in full swing – and it's GAME TIME!
We have folks down two, three, up to four pounds down already after the first week.  It's going to be a REAL close race.
No matter who wins the challenge though, the most important thing is that we'll help over 20 folks lose fat, gain lean muscle and get BETTER this month with the FVT Rapid Fat Loss Challenge.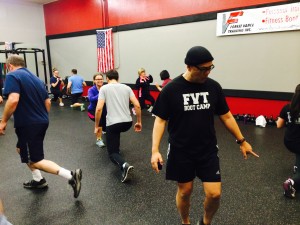 FVT trainer Jonathan coaching 'em up at a Rapid Fat Loss Boot Camp
Couple other quick things –
1 – Our 4 Year Anniversary Party is also coming soon, as well as our 2nd annual Train-A-Trainer Charity Effort – both on Saturday the 18th of October.  Be sure to save the date!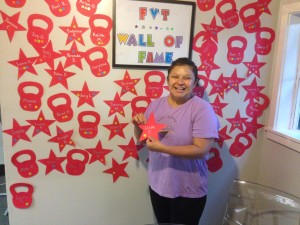 Congrats to Linda, newest addition to the FVT Wall of Fame!
2 – We have a Nutrition Workshop coming up this Saturday the 27th.  Get all the details and reserve your spot at the link below:
=> FVT Nutrition Workshop Saturday, Sept 27th
3 – Did you miss either of the articles we put up on the FVT blog last week?  Lots of great feedback on those so far – check em out below if you missed them the first time around:
=> Are You Making These Deadly Fat Loss Nutrition Mistakes?
=> 3 Tips to Help You Recover Faster From Your Workouts
That's it for now.  Just wanted to give you a quick update on the Challenge, as well as the heads up / reminder on some stuff we have coming up at the studio.
Thanks, have a great day, and talk soon –
– Forest Vance
Owner, Head Trainer, FVT Personal Training and Boot Camp