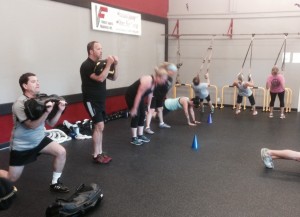 Time for another FVT Challenge Workout!
We do these during the first week of EVERY month at the studio, and they're hard to beat for shocking the body and building mental toughness.
Give the workout below a go (make sure to read the overview first), and get ready to kick your results into overdrive:
September 2014 FVT Challenge Workout
– 100 kettlebell swings (16k for women, 24k for men)
– 50 burpees (touch body to the floor on each rep)
– 100 push ups (knees for women, toes for men)
– 50 inverted rows (body should be parallel to the floor; body touches bar/etc. at top of each rep)
– 100 walking lunges (tap knee to the floor at the bottom of each rep; ea step counts as one)
– Weights listed are "prescribed" and what you want to eventually work up to using … BUT use good judgement and safety when selecting a weight for YOUR own fitness and ability level
– Exercises can be done in ANY order you want (do NOT have to do reps consecutively)
– 25 min time limit
– Under 23 mins is awesome
– Under 20 mins is the "gold" standard
Stay tuned for results – we'll be posting 'em up at the end of the week!
– The FVT Team
PS – If you can't make it in to the FVT studio, no worries – you can do these challenge workouts on your own and post your results to the comments section here on the blog!
But also remember – these challenges are NOT a full workout routine in themselves.  They are intended as occasional tests of physical fitness and mental toughness.
IF you're training on your own but aren't sure where to start, check out the "Baby Sale" we got going today – you'll get 60% off ALL my best-selling programs – possibly the best time EVER to pick 'em up and get started with your home-based workouts: