Just finished up another KB Workshop at the FVT studio – what fun!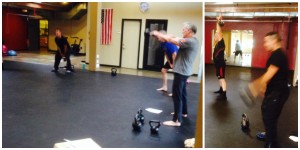 Before I sign off for the rest of the weekend, wanted to shoot you a heads up about something – the "Early Bird" discount on registration for our upcoming FVT Ultimate Challenge Workout ends on Monday:
=> FVT Ultimate Challenge Workout ("Early Bird" discount ends Monday)
The Ultimate FVT Challenge Workout event will be an "ultimate" test of your overall fitness – strength, endurance, and much more.
It's for current members, their friends, family, co-workers, and anyone else who is up for the challenge.
The proceeds (25%, or $10) from your registration fee will go towards the Alzheimers' Association.
PLUS .. when you sign up, you get special prep tips and homework each week to prep for the event … AND you get an exclusive, can't-get-it-anywhere-else, SUPER cool "FVT Ultimate Challenge Workout" T shirt!