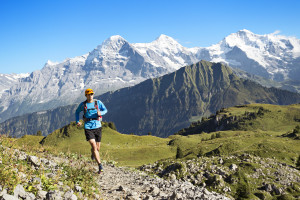 Making the best, fastest progress towards your fitness goals requires that you be doing some kind of exercise / training / physical activity most – if not EVERY – day of the week.
Working out two or three times per week is of course WAY better than not working out at all … and you CAN make some progress with this type of schedule … but you will be able to get MUCH fitter, MUCH faster, and stay there, training and being active five, six, or seven days per week.
That being said, an easy, effective, time-efficient way to be more active, more often is to add running to your workouts.
Let's take a person that is doing three boot camp – style workouts per week as an example. And let's assume that this person is working towards losing some body fat, gaining some lean muscle, and just improving their overall fitness level.
So this person might do their boot camp workout on Monday / Wednesday / Friday … and do a short, 20-30 minute interval run on Tues / Thurs – like this:
###
(run/walk interval workout 1)
— 5 min walk to warm up warm up
— 2 mins jog/run (as fast a pace as you can maintain for 2 mins)
— 1 min walk (recovery)
— repeat interval 5 times total
— 5 min walk to cool down
OR
(run/walk interval workout 2)
— 5 min walk to warm up warm up
— 30 seconds run (shorter interval, so faster pace than the example workout above!)
— 30 seconds walk (recovery)
— repeat interval 10 times total
— 5 min walk to cool down
###
Then on Saturday, they might go on a long walk or bike ride or hike etc … and there they have six days per week of exercise!
Get started on this basic plan to start being more active, training more frequently and getting better, faster results in your fitness program by adding running to your workouts today.
Train hard, and talk soon –
– Forest Vance
Owner, FVT Boot Camp and Personal Training
PS – At the upcoming FVT Ultimate Challenge Workout, we have a 5k around the Land Park area as part of the event … so you'll NEED to add running into your workout mix to help you get ready.
And I know for a lot of folks – myself included – physical challenges like this, and the training involved to get ready, is a GREAT way to give yourself a bit of extra motivation to get in shape, and be more consistent with the workouts.
Click the link below to register now – the "Early Bird" discount ends soon, so be sure to sign up ASAP to get in at the best rate: