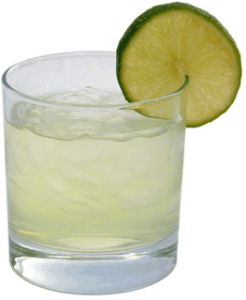 It's almost time for the FVT Back-to-School Rapid Fat Loss Challenge …
And as we get geared up for the event, I'm going to share some nutrition tips and hacks with you that helped me, and everyone else who completed the last Challenge we put on in the spring … to stick to the diet plan and see awesome fat loss results, but still enjoy life and keep our sanity at the same time 😉
Limiting alcohol intake during challenge is key – most adult beverages have almost ZERO nutritional value.  You can try to argue some small health benefits … but at the end of the day, alcohol mostly just contributes to extra body fat, dehydration, sluggishness, and much worse long-term health effects that we won't go into in today's article …
But there are a couple of drinks that are okay in moderation – that is, you can still enjoy them two or three times per week, and see the rapid fat loss results you're looking for.
One of them is called the "NorCal Margarita". It's been made famous by Robb Wolf, New York Times best selling author of The Paleo Solution.
Here's what goes in it:
– 1 shot Top shelf tequila (preferably resposado or anejo)
– The juice and pulp of one lime
– Club soda to taste
Take the ingredients, shake 'em up, and serve on the rocks!
It's a 130-150 calorie beverage that's got less than 5 grams of of sugar … all the flavor without the junk!
A few other reasons why it's better than a traditional margarita:
– The tequila being used is fermented agave juice, both gluten and starch free
– The lime juice blunts the insulin response of alcohol
– The carbon dioxide bubbles in the club soda help to deliver the ethanol to your blood stream quicker, thus you drink less with the same effect
So there 'ya go – mix up a NorCal Margarita today, and let me know how you like it.
And stay tuned for more info on the upcoming FVT Back-to-School Rapid Fat Loss Challenge – registration opens soon!
– Forest Vance
Certified Fitness Nutrition Coach
Owner, FVT Boot Camp and Personal Training