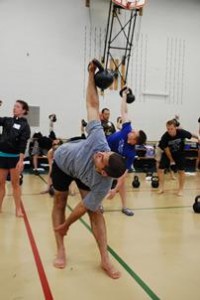 We've decided to put on a special "Kettlebell Basics Workout Series", focusing on teaching how to get back into shape using kettlebells as the training tool of choice.
Here's a breakdown of how the program is set up:
1 – You get 1 private session with me (Forest) to intro you to KB's, get a high level of personal attention and drill down on what you need the most work on, right away.
2 – You get 4 workouts at our KB basics boot camp class, held Tuesday nights at 6pm at our studio starting October 6th.
3 – You get a digital copy of the Kettlebell Challenge Workouts course, which has 8 weeks worth of kettlebell workouts you can do at home etc w a single kettlebell and your own body weight.
4 – You get a digital copy of the Kettlebell Basics Workshop video course, which is basically where we had a film crew come in and video our last Kettlebell Basics workshop at the studio, so that you can review your KB form, practice and get better on your own, etc.
If you are interested, fill out the application at the link below, and we'll get right back to you:
One more thing  – we have a TOTAL of 10 spots available for this program (several of which have already been filled) … AND once the program starts (in just over a week), we're going to shut down registration … so be sure to inquire ASAP!
Thanks –
– Forest Vance
Owner, FVT Boot Camp and Personal Training
Level 2 Certified Russian Kettlebell Instructor