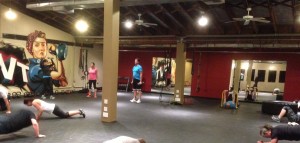 Final reminder – we are holding a "Bring-a-Buddy" Boot Camp event THIS SATURDAY, October 10th @ 10am!
It's a great opportunity to bring a friend, family member, co-worker, etc. in to check out our program – in an easy, no-obligation way.
Also, if you're just curious and would like to check out one of our boot camps … or if you've been "out of the game" for a little while, and want to get going with your workouts at FVT again … this is another perfect opportunity!
If you'd like to the Bring-A-Buddy Boot Camp event at FVT this Saturday at 10am, simply shoot me a message with the name and best email (so that we can reach out and confirm attendance) of your friend / family member / co-worker that you'll be bringing along.
(This will be in conjunction with our final Rapid Fat Loss Challenge boot camp event, so you'll get to hear about the AWESOME progress folks have made over the last 30 days with this program … but ALSO, we have to limit attendance to 25 folks TOTAL, and 20 spots are already reserved … so you MUST RSVP if you want to ensure a spot at the event!)
Thanks, and look forward to seeing you on Saturday at 10am!
– Forest Vance
Owner, FVT Boot Camp and Personal Training