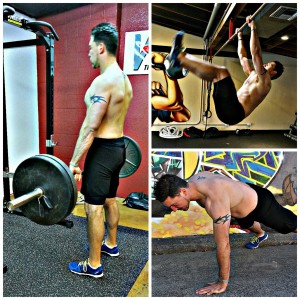 If you are looking to:
– Get stronger
– Gain muscle
– Get better at the basic kettlebell exercises
– Work towards doing some more intermediate / advanced bodyweight moves like pull ups, pistol squats, and handstand push ups
– Learn the basic barbell lifts
– Mentally and physically CHALLENGE yourself to overcome your current obstacles and become a STRONGER version of yourself
Our "Lean and Jacked" personal training / semi private program could be the PERFECT fit for you.
After I sent out yesterday's message about a few spots currently being open in the program, we got LOTS of questions … so I thought I'd give you a sample personal training workout day, so you could get a feel for what it's like, how it differs from our boot camp / group training program, etc.
Let's hop right into it:
###
FVT Personal Training Workout – Sample Day
(warm up)
– foam rolling
– joint mobility
– dynamic stretching
2 – Exercise pair #1 – alternate exercises back and forth and do five sets total of each; rest as needed between moves to get fully recovered:
– barbell deadlifts – 5 reps
– KB Turkish get ups – 1 rep each side
3 – Exercise pair #2 – do four rounds of the following sequence, taking as little rest as possible:
– goblet squat with kettlebell – 10
– feet elevated push ups – 10
– hanging leg raises – 10
4 – To finish – stationary bike – 5 intervals of 30 seconds HARD, 30 seconds of recovery
5 – Finish with static stretch of tight muscle groups
###
As you can see, we are able to work in some stuff that just isn't feasible in a group setting many times – like foam rolling, deadlifts with a barbell, Turkish get ups, and more.
And we have FIVE THREE slots reserved over the next two weeks to do complimentary "Test-a-Trainer" sessions at the studio with SERIOUS clients who are interested in this service.
So if that's YOU, reply to this message and let me know!
We will schedule a time to hop on a quick phone chat, talk a bit more about your goals, give you more info on our program to make sure it's a great fit, and if all sounds good, schedule a complimentary "Test-a-Trainer" session at the studio from there.
Look forward to hearing from you!
– Forest Vance
Owner, FVT Boot Camp and Personal Training
http://forestvancetraining.com