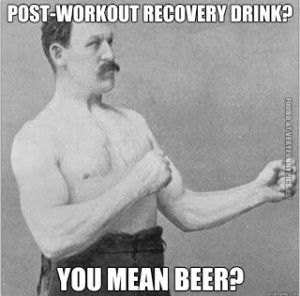 Is drinking a beer or two a good way to recover after a hard workout?
Putting your body through the strains of exercise depletes a lot of important vitamins, hydrating electrolytes, and carbs. Recovery drinks are popular because of this reason – they're all full of good sugar and nutrients that replenish your body.
Beer has got some of that same good stuff too! Sugary carbs, a hint of electrolytes, and a few helpful plant-based nutrients that come from the hops, yeast, and barley.
The alcohol does sort of the opposite though – it dehydrates you, and some research shows that it has a potentially negative effect on protein synthesis.
Bottom line, getting hammered after every workout probably isn't a great idea, but having a beer after a vigorous workout might not be as bad for you as you'd think.  A little moderation and a ton of water could be the perfect reward for yourself after a particularly grueling session 🙂
And that's EXACTLY why you need to reserve your spot at our upcoming 'Bells, Beers and Buddies event.
On Weds, May 4th @ 6pm, we'll hold the final boot camp for our Rapid Fat Loss Challengers … but whether you are participating in the Challenge or not, you are HIGHLY encouraged to attend … and bring friends, family members, and co-workers.
It is free for you and any buddies you'd like to bring along. (Attendance is capped at 30.)
We will announce the winners of the Challenge … get an awesome kettlebell workout … and you can also bring a beer (or beverage of your choice) to enjoy afterwards!
If you plan on attending, please let us know here:
… and, also have your buddies / family members / co-workers / etc sign up using the form above as well.
Have an awesome day, and look forward to seeing you for a kettlebell workout – and a beer! – next Wednesday.
– Forest Vance
Owner, FVT Boot Camp and Personal Training
PS – Have you seen this video that The Film Squad put together from the Tactical Strength Challenge we hosted at FVT last weekend? Check it out – gives you a GREAT feel for the event if you dind't end up making it out it person – and will get 'ya fired up for the next one, happening on October 1st! 😉