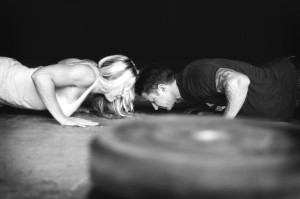 We have been running the "FVT Elite Coaching" program via an ONLINE / DISTANCE ONLY format for the last 18 months or so …
I am now VERY excited to announce that we have tested, tweaked, and refined this program to the MAX … and we are offering a new, "hybrid" version at the studio.
This is PERFECT for people who:
— Travel frequently and can't commit to regular workouts at the studio – but still want all the benefits FVT training programs can provide
— Are most interested in getting a PLAN to follow … having that accountability and those regular check – ins with a trainer … but would prefer to do most of their workouts on their own
— Want to gain muscle and / or strength with an individualized lifting plan that they can follow on their own between boot camp sessions they are already doing at the studio
— Want to spend private, focused time with us on a regular basis to discuss nutrition and / or training advice, that is specific and individualized to THEIR needs
We are calling it "Hybrid" Elite Coaching because it COMBINES an in-person element … where we meet in-person regularly to check in, do a body fat test, and walk through your workout / nutrition plan for the month … and then we use our killer online system to log your workouts and meals, and keep you on track between sessions.
If you are interested, just contact us HERE.  I will give you more details, and we can go from there to see if it's right for you.
And FYI, spots are limited.  We don't have a ton of availability for this particular program.  So if you want in, please do get back with me asap so we can figure out if it's a good fit.
Thanks so much, have a great day –
– Forest