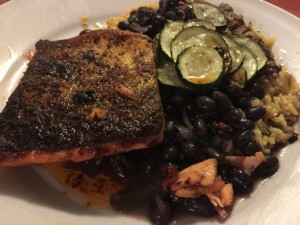 We have our final Rapid Fat Loss Challenge of the year kicking off on Monday, October 17th.
When you sign up, we give you a meal plan to follow that tells you EXACTLY what and how to eat – so that all you have to do to lose fat as fast as humanly possible is print out the meal plan and follow it to a "T"!
But we have been getting a lot of questions about what the diet looks like.
So we thought the best thing to do would be to simply show you a sample day?
Well – here you go:
#
** Portion sizes NOT listed – individuals will need to adjust calorie intake depending on weight / activity level / body comp / etc
28 Day Rapid Fat Loss Diet – Sample Day
Breakfast
– hard boiled egg(s)
– almonds
– piece(s) of fruit
Lunch
– teriyaki chicken
– broccoli
– carrots
– salad
– iced tea
Snack
– cashews
– apple
– 16 oz water
Dinner
– salmon
– black beans
– zuchinni
#
Now when you sign up for the Challenge, we give you a full meal planning guide that goes into the whats, whys, and hows of our diet system …
You get a full 7 days of meal plans like the one above to follow …
And we give you a special report we put together with 40+ more meal and snack ideas to "plug and play" …
But do you see how EASY a meal plan like this would be to follow?
The next step is to reserve your spot for our last Rapid Fat Loss Challenge of the year at the link below:
http://www.forestvancetraining.com/2016/10/28-day-rapid-fat-loss-challenge-register-now.html
And have a great day! –
– The FVT Team