Next up in our Team FVT Showcase Series is … Chris!
Our team members take great pride in being part of the FVT family, helping men and women in the Sacramento area become fitter and stronger versions of themselves.
We all have different backgrounds, and are all a vital part of keeping the motivating and encouraging atmosphere alive at the gym.
And now you'll have the opportunity to get to know each one of us a little better in the Team FVT Showcase Series we began a couple of months ago!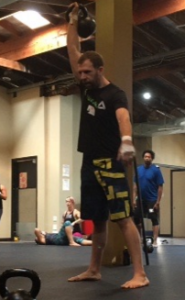 Chris developed instant interest in fitness/ late 2008 after being annihilated on a difficult hike in Oregon with his older brother. Driven by a competitive spirit and frustration with a mostly sedentary lifestyle, Chris lost 40 pounds in about a year of running moderate distance and making meaningful dietary adjustments. After some running injury setbacks, he started doing some rock climbing and dabbling in high intensity strength and conditioning.
Chris currently juggles his fitness passions, endeavoring to increase capacity across several different disciplines. He is actively pursuing goals/improvement in Powerlifting, Yoga, and kettlebell conditioning/ballistic work.
Chris is passionate about human movement and performance. He is a Level I Russian Kettlebell Challenge Certified Instructor, Crossfit Level 1 Trainer, and a Crossfit Movement/Mobility Trainer. Helping people reach their athletic potential through movement precision and mastery of technique drives him to improve as an athlete and coach everyday.
Get to know Chris: Fun Facts
– Chris is a yoga assistant at Zuda Yoga and also volunteers for yoga in the park
– He enjoys his side gig as a wedding photographer
– Chris likes to try new local coffee shops and restaurants with his girlfriend Verna, so if you want to know of a new hot spot for dinner or drinks, ask Chris!
Join Chris for one of his weekly boot camp workouts at FVT!
Thanks –
– The FVT Team