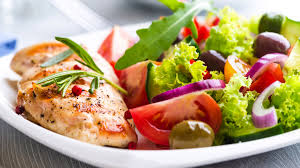 ++ Fall 2017 28 Day Rapid Fat Loss Challenge registration is LIVE! ++
Research shows that when we will eat fewer calories if we use smaller plates.
On the other hand, larger plates lead to eating MORE.
So, if you are looking to lose body fat, a simple trick to help you decrease your portions is to eat on smaller plates.
Also – this is NOT just for your every day meals, but for your "cheat" meals AS WELL. Eat that ice cream out of a small bowl, your chips on a small plate.
BONUS – never eat out of the container or bag! This is another great way to lose track of your intake and eat way too much.
Implement that tip right away to start seeing results, and be back soon with more –
– The FVT Team
++ Fall 2017 28 Day Rapid Fat Loss Challenge registration is LIVE! ++