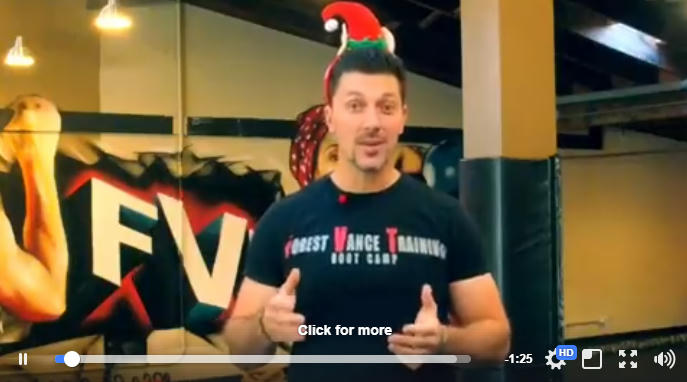 Would you like to know how you can enjoy all of your favorite foods this Holiday season, and still make progress towards your fitness goals?
Click here:
http://bit.ly/fvt21dayholidayshred
And I'll show you exactly how to make that happen 🙂

You see, we are holding our first ever FVT 21 Day Holiday Fitness Challenge. And we're looking for 15-20 people to join us for this special program.
It kicks off the week after Thanksgiving, and runs thru the week before Christmas.
We are going to hold a special "virtual" Nutrition Workshop for everyone who participates, so that you can learn how to not only survive, but THRIVE this Holiday season, with your fitness intact …
We have special workouts at the FVT Studio, so that you can keep the workouts going and make sure you're staying in top shape …
We have special prizes for our winners, including an Amazon Echo, a free month of Unlimited Boot Camp workouts, and more …
And we even have free T shirts like the one I'm wearing in today's video for the first 15 or so folks who sign up!
If you are intersted and ready to rock, here are all the program details and the link to sign up:
http://bit.ly/fvt21dayholidayshred
Look forward to working with you!
– The FVT Christmas Elf