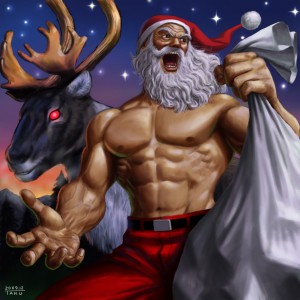 Have you already accepted that you're going to gain weight during the holidays?
Tradition, family drama, and minding your manners all play a part …
… but many people seem to actually be OKAY with packing on the pounds this time of year!
I am here to tell you, it doesn't have to be that way.
And so, for the first time EVER, we are going to do a 21 Day Holiday Shred Challenge at FVT.
It kicks off the Tuesday after Thanksgiving, and runs until the week before Christmas.
It is SPECIFICALLY designed to combat overfeeding, and help you once again avoid turning the Holiday season into an unintentional "bulking" phase 🙂
We'll have a meal plan for you to follow, and a Holiday Shred "virtual" Nutrition Workshop for participants …
Special workouts for Challengers AND bonus boot camp workouts for new AND current clients …
Awesome prizes up for grabs, including an Amazon Echo, a free month of unlimited boot camp and a free personal training session with Forest …
And for the first folks to register, we'll even have free T shirts!
You can't sign up just yet, but I wanted to give you a heads up.
If you are interested, keep an eye out for regisration opening later this week.
And let's get SHREDDED this Holiday season!!
– Forest Vance
Owner, FVT Boot Camp and Personal Training