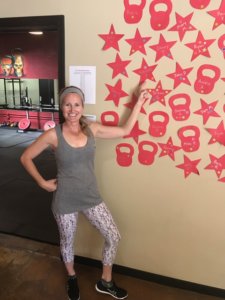 Gabrielle is incredibly positive, so kind, and has an uplifting attitude that she spreads everywhere she goes.
We are beyond blessed to have her as a loyal client and friend.
This is her success story!
Gabrielle's GOALS – coming in to FVT:
Gabrielle was working out on her own, running and doing some weights at home.
But the biggest problem was – and this is according to her! – she never broke a sweat.
So her first goal was, quite simply, to work out harder.
She also wanted to get stronger, and increase her muscle tone.
In her words:
"When I first started, I was in my late 30's – and I did NOT want to go into the 'flabby 40's', waving goodbye to my family or people I know, and have my arms flapping around!"
Gabrielle's FIRST WORKOUT:
Gabrielle admits that at first, she was a bit intimidated.
She was worried that she wouldn't be able to keep up, or that she might look stupid.
But after her first workout, she felt right at home, welcomed into the FVT family … and was hooked!
Says Gabrielle:
"There were many new challenges for me in the boot camp than I had faced working out on my own.  
But the welcoming environment and awesome people at FVT made it so easy!"
Gabrielle's MILESTONES!
1 – Gabrielle can now do 3 pull ups in a row. When she started, she was no where close to doing even one.
2 – Gabrielle had never touched a kettlebell before coming into FVT. She started with the 10 lb on day one. Now she does swings with 35+ pounds on a regular basis.
3 – In general, she can lift a LOT more weight than she did when she started – more than she ever thought she could. She says that this has helped improve not only her fitness, but every other aspect of her life.
Final Thoughts from Gabrielle:
"You will not find a better environment, space, encouragement, workout space than FVT. It is the best, ever, in Sacramento, of all time. Don't even go anywhere else, or look anywhere else.
This is not your average gym. There is so much care, and concern. Forest and Gina have done a wonderful job.
There isn't any of the "looky-loo" stuff going on like there is at other gyms. Everyone is just focused on being positive and healthy and getting better every day.
Forest is as important in my life as a doctor, as a life coach, as any one else that I trust with my health. He is one of the most important people in my life."
#
GABRIELLE – you are the best.
We are honored to have you as a client and friend.
You are one of the most important people in our life as well.
Congratulations on your success, so glad to help and be a part of it, and here's to a fantastic 2017 and beyond!
– Forest and the FVT Team