We specialize in helping people in their mid-to-late 30's, 40's, 50's and beyond, who want personalized attention to reach their goals in the fastest and safest way possible.
We offer one-on-one and small group personal training at our private studio. We also offer our kettlebell bootcamp program online.
OUR TEAM
Forest Vance – Owner, Head Personal Trainer @ FVT Online
Forest started FVT Boot Camp and Personal Training in 2009. After his pro football career ended, he lost 64 pounds in seven months, changed his life, and was motivated to help others do the same.
Over the last 15 years, he's helped thousands of Sacramento, CA – area women and men transform their bodies and minds. FVT Boot Camp and Personal Training has grown from a one-man show to a multi-location community. He personally invites you to become our next success story!
Donald Henrich – Head Personal Trainer @ FVT Sacramento
Donald has trained in martial arts for over 20 years and obtained a third degree black belt in the Kajukenbo Self Defense System.
He has made fitness an integral part of his lifestyle and he personally continues to see the benefits of strong functional movements and an even stronger mind and body connection brought about by a healthy, active lifestyle.
Donald believes in establishing a strong foundation rooted in total body strength and mobility – a philosophy that he has shared with his clients as a NASM certified trainer for the last seven years.
Anna Melliza – Personal Trainer
Anna has been a client at FVT for 11 years. She has enjoyed leading an active lifestyle her whole life. From a young age, she regularly rode horses, and in recent years participated in dressage competitions. Dressage, an English style of riding, is a form of training designed to strengthen and supple the horse and human through a series of progressions over time, much like the type of training offered for individuals at FVT. Through dedicated training for BOTH Anna and her horse, Anna won first place in her class at the Northern California Regional Adult Amateurs Championships.
Anna decided to take her passion for fitness to the next level, obtaining her NASM Personal Trainer certification. She enjoys leading clients through FVT workouts and helping them to become stronger, in both body and mind, while having fun doing it.
Anna also likes cycling, hiking, and kickboxing in her spare time and believes that she is stronger at those activities because of her workouts at the gym! She is excited about sharing her experience, knowledge, and skills to help others achieve their fitness goals.
Leanne Kadoya – Personal Trainer
Leanne fell in love with fitness in 2000. After relocating to California from the East coast she joined a gym to meet new people and to learn more about fitness . Leanne hired a personal trainer and lost 25lbs in 12 weeks, that's when her fitness addiction started. She decided to become certified in personal training and hasn't looked back since.
She has been a stay at home mom for the last 10 years but fitness has always been a top priority. She has competed in the NPC bikini division and holds a certification with the National Academy of Sports Medicine. She is currently studying for her group fitness certification.
Her passion for fitness has kept her motivated and driven and she is eager to share her experience, tips, and love for fitness to change lives here at FVT!
Jonathan Masaki Shiroma – Personal Trainer
If Jonathan looks familiar to you there's a good reason. For many years, he was a T-V news reporter/anchor here in Sacramento, first at Good Day Sacramento followed by News 10.
Jonathan put his TV career on hold for a few years when as a California Army National Guard Soldier he spent close to three years deployed in support of Operation Iraqi Freedom and then Operation Enduring Freedom. Upon his return from his two deployments, Jonathan retired from broadcast news but found a new passion in the fitness industry.
He took classes from AFAA and Todd Durkin and certified as a group exercise and boot camp instructor.
A native of Hawai'I, Jonathan is excited to be part of the team here at Forest Vance Training and promises a mix of military style exercises mixed in with the spirit of Aloha at each boot camp class he leads.
Robin Stover – Administrative Specialist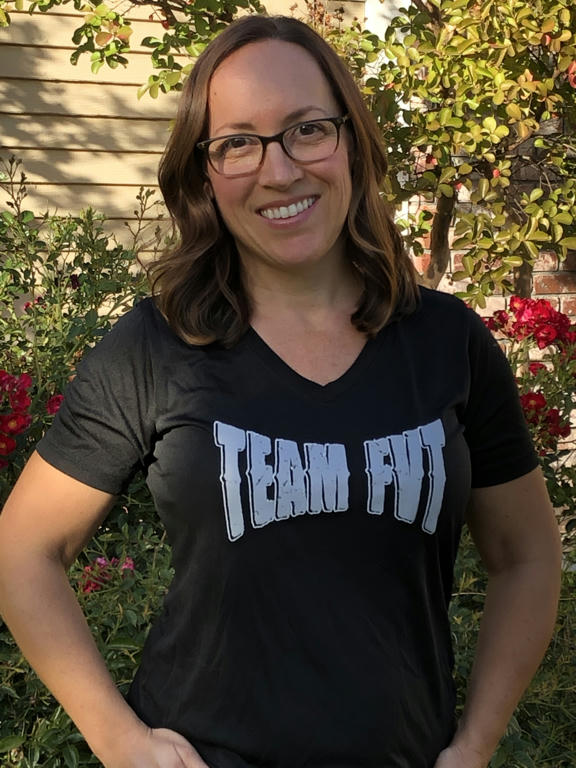 Hi! I'm Robin and I am super excited to join the FVT Team. My full time job has been "Mom" for the last 7 years. I grew up in the Chico area and moved to Sacramento in 2006. My resume includes extensive Administrative and Customer Service work including work at the Sacramento Kings. My husband and I have 2 wonderful boys. In my spare time I love to exercise, be outdoors with my family, and read. I look forward to helping you!