See current group PT/boot camp times here
"The Best Bootcamp in Sacramento at Forest Vance Training, Inc. …"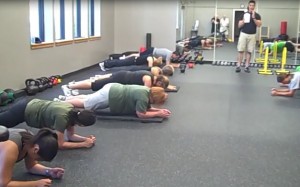 Bootcamp Sacramento
We're confident we've got the best fitness boot camp in Sacramento, CA. But don't take our word for it – here's what some of our clients have to say about the program:
'The Best in Sacramento Kettlebell Instruction'

Excellent kettlebell trainer! I had done a little training on my own before I found Forest. He coached me up on my form and now I can tackle more complicated exercises with ease. His fast paced combinations are a great cardio workout and leave me feeling smoked!

-Sean, Sacramento, CA

'Great Instructor for Begining Kettlebells'

Having never really done any weight training before, I was hesitant to start up a kettlebell regiment. Forest did a great job of breaking down each exercise into step by step movements so that I could confidently understand what I needed to do. I am now addicted to kettlebells and so glad I had such a great introduction.

-Leslie, Sacramento, CA

'A Very Skilled Trainer for Everyone!'

Back then, I never really believed that kettlebells will let me shed the same amount of calories compared to jogging in the countryside. I was a huge cardio fan and I never did other exercise methods, except stretching of course. Ever since I started an intense kettlebell training routine, my lifestyle changed for the better. My body burned a lot of calories and I was able to run longer miles than expected. I enjoyed kettlebell trainings a lot and I am looking forward to try new weights. Well, there are times when I preferred kettlebell trainings over cardio. With an inspiring and very skilled trainer, what can possibly go wrong?

– Brandon, Land Park, CA
Fitness boot camps are incredibly beneficial, allowing clients to get a full body workout in a short amount of time. They combine body weight exercises with interval and strength training, allowing little rest between exercises and promoting fat loss.
For example, at Forest Vance Training Inc.'s Sacramento boot camp studio, kettlebells are utilized about 30% of the time in class, allowing clients to get both a cardiovascular and strength workout in one movement. This not only works your muscles, but also your heart. Exercise of this nature can reduce high blood pressure, hypertension, and combat stress.
Click the video below for a preview of boot camp action
A positive of this boot camp is that it pushes clients farther than they are personally capable of with encouragement, as opposed to intimidation, therefore providing a challenging workout. Forest and his training staff is in tune with his clients and aware of their needs, ensuring that if they are capable of increasing a weight or performing a more challenging version of an exercise, the intensity will be raised. This gives a personal assurance to clients that they will always be reaching their maximum potential and improving, regardless of the group surroundings.
The boot camp setting creates a cohesive small-group environment with the benefit of providing a level of support to clients. At this Sacramento boot camp, the ages found in a single group session can range from seventeen to seventy. This is indicative that people are able to work at their own pace, yet at the same time, all strive towards similar goals, enhancing the sense of support.
Another aspect of support provided is the social environment that is developed between clients, allowing them to bond and in addition, creating accountability for attendance. This combats a common problem individuals have, which is finding the motivation to get off of the couch and go to the gym.
All of the above benefits that have been demonstrated will help guide an individual towards their overall fitness goals and increase their well being, both mentally and physically. If someone is searching for a training program that has the benefits of personal training at a more affordable cost, signing up for our Sacramento boot camp class will provide them with a great fitness regiment.
To schedule a FREE 'Test A Trainer' bootcamp session today, please call (916) 273-9366 or contact us via the link below: