[order_box_1 width="60%" + border="4px"]
Hurry, registration closes in:
[ujicountdown id="1″ expire="2015/02/18 00:00″ hide = "true"]
[/order_box_1]
From the FVT Boot Camp and Personal Training gym, 1530 X Street, Sacramento, CA –
If you're:
[red_arrow_list width="100%"]
Ready to get a rapid start to your new fat loss program
Stuck at a weight loss plateau and need a short burst of motivation to snap you out of it
Just looking to lose a lot of body fat in a short period of time
[/red_arrow_list]
You owe it to yourself to read this entire letter.
See, slow, one-to-two-pound-per-week, "politically correct" fat loss is fine for some folks …
In fact, losing weight in a "safe", controlled, and methodical fashion is what most fitness experts would lead you to believe is the "best way".
I whole-heartedly disagree.
Why?
Well, in a recent 30 Day Rapid Fat Loss Challenge, we had six people in "double digit" weight loss territory (that's 10 pounds or more of weight loss in 30 days!), and we finished with a total of 126.4 pounds lost among 15 participants that made the final weigh-in (an average of 8.43 pounds lost per person!)
And, probably most importantly, this 30 day "burst" built the foundation of solid workout and meal planning habits for many folks that are still training at our studio today … and have continued to lose even more weight, and make continued progress towards their ultimate fitness goals … almost one year later.
So THAT'S why I'm so excited to share the news of our upcoming, NEW FVT 30 Day Nutrition Challenge with you today …
Now introducing …
The FVT 30 Day Performance Nutrition Challenge
Basic information:
[red_arrow_list width="100%"]
The challenge will run Wednesday, Feb 18th to Friday, March 20th
This is a personal challenge to help you dial in both your workouts AND your nutrition for 30 days … and in the process, get results you never thought were possible in such a short period of time!!
Instead of this being a "most weight / body fat / inches lost" competition (OUTCOME driven), this challenge will be based on a daily points system (PROCESS driven).
You'll get points for both working out (at FVT and/or on your own) AND for 'eating clean' and logging your food. Hit your target points (and your weekly check – ins), and you've completed the challenge!!
[/red_arrow_list]
Here's what you get when you register:
[red_arrow_list width="100%"]
A complete plan for your eating and workouts during the Challenge – So that you'll know EXACTLY what to do, to get the easiest and fastest results possible!
Before and after body fat measurements – so you can track your progress and see how much you've improved after just 30 days of focused training and nutrition
Access to three special boot camp workouts where we'll get together as a group and do a challenge-style workout … this will be a timed / scored workout, so that you can see how your fitness improves over the 30 days. These special workouts will be held at the following times: Wednesday, Feb 18th at 6pm, Wednesday, March 4th at 6pm, and Saturday, March 21st at 9am.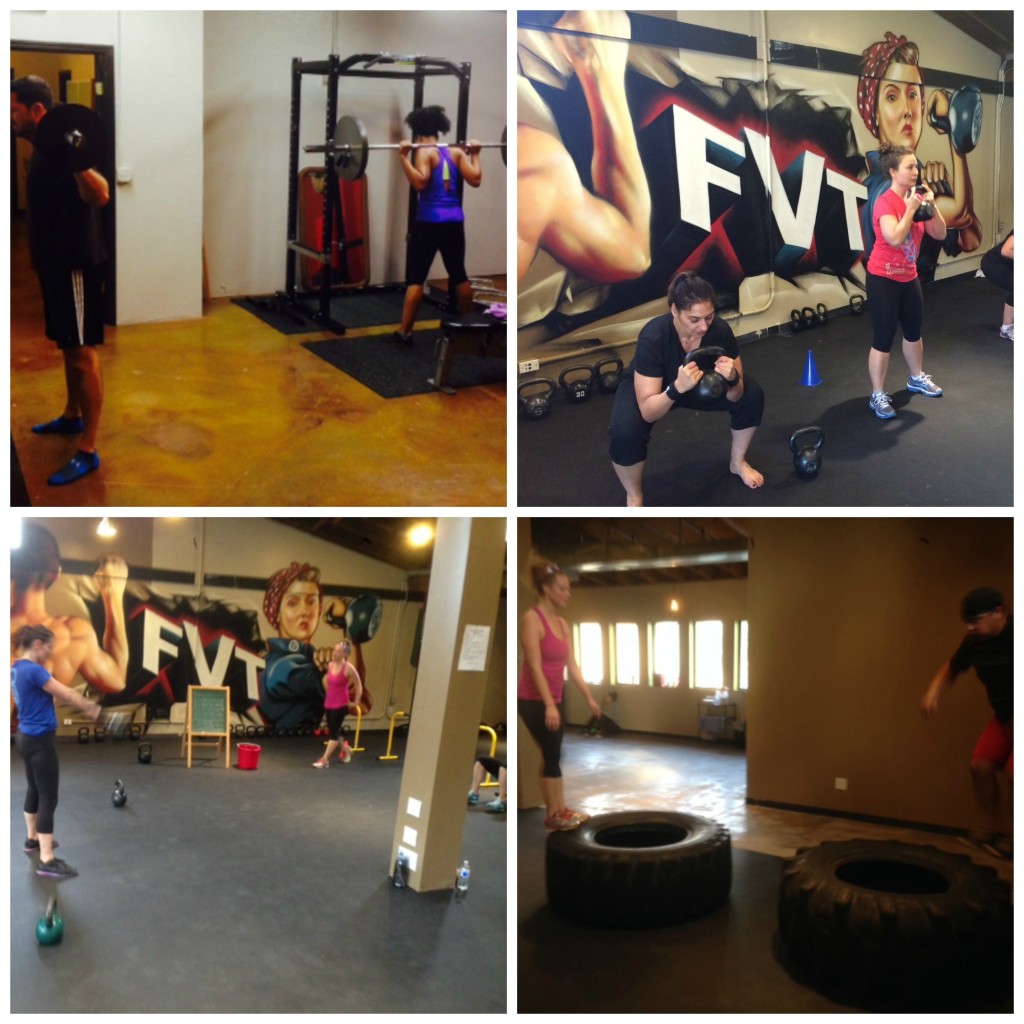 Access to a private Facebook group were you'll 1) post a weekly check in with your total points for the week, questions, comments, etc and 2) get coaching from the FVT team to get any and all of your training / nutrition questions answered, and 3) get help with anything else that you need.

This group accountability is a HUGE part of the challenge … and worth MANY times the cost of registration alone!

A special edition FVT boot camp T shirt that you can ONLY get by completing the challenge. You'll wear this with pride, and it will be your hard-earned prize for 30 days of mental and physical discipline!!
Not actual T shirt design 🙂
[/red_arrow_list]
[order_box_3 width="60%" + border="4px"[/order_box_3]
[/order_box_3]
F.A.Q.
Q: Tell me more about the "diet" you'll be using in the Challenge.
A: See the full Challenge meal plan HERE.
Q: Do I have to do ALL the workouts at FVT, or can I do some on my own?
A: Both, for sure. We encourage you to do both. We'll have various workouts and difference resources that we share with you, but you can visit my body weight training workout site HERE as a great start.
Q: Who is the challenge open to?
A: Anyone who wants to sign up! Current and past clients, their friends and family, newsletter subscribers, Facebook followers, etc.
Q: What if I can't make the scheduled workouts?
A: No worries. You'll still get a workout guide – so you can workout on your own – and you'll get your NUTRITION dialed in, which is the #1 focus of this Challenge. Just make sure to contact me and schedule an alternate time to get your weight and body fat done at the beginning and end of the challenge.
Additional questions? Comments? Concerns? Message me HERE and I'll get back with you as soon as I can!
Thanks, and look forward to working with you to reach your rapid fat loss goals –
Forest Vance, MS, CPT, RKC II
Owner, FVT Boot Camp and Personal Training