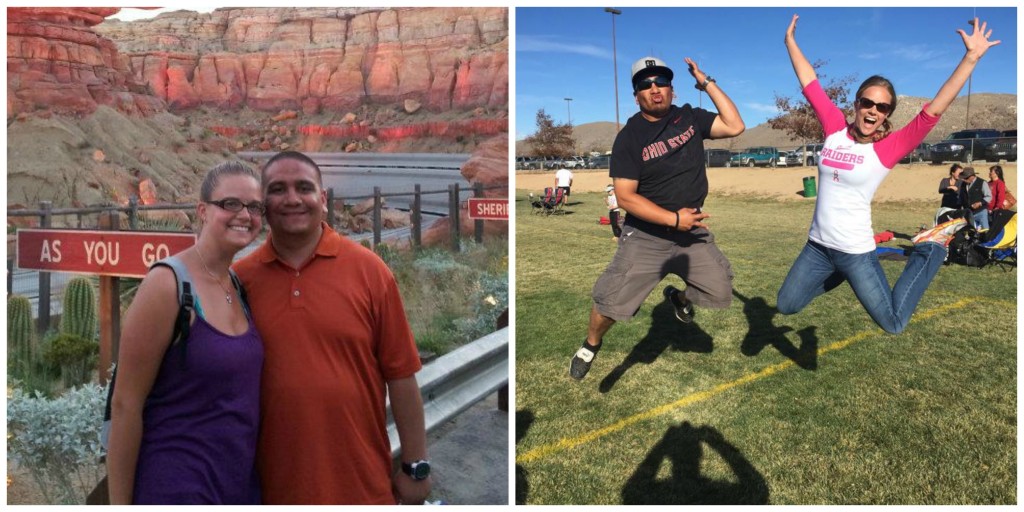 Ruben and Jenny were always very active and involved in sports in their younger days … but after college, and especially when they started working full time, fitness was put on the back burner.
They came to FVT looking for somewhere they could work out together. At the time, they were both tired at the end of their workdays and didn't have much energy.
Ruben was also looking for a workout that he would enjoy, but that also wouldn't be intimidating for Jenny.
Says Ruben:
"I didn't just want to join a gym where I'd be over by the weights doing bench presses and she'd have to be my spotter or something."
And says Jenny:
"I was apprehensive about (working out at FVT) at first, because I hadn't done any sort of strength training before, I had only done cardio.
And I didn't know if it would be worth it to work out here versus just trying to work out on my own.
I was worried about the time commitment also. I'm always really busy with teaching and I wasn't sure how it was going to fit into my schedule."
Ruben and Jenny have been working out at FVT for two and a half years now … check out what they have to say about the results that they have experienced:
Jenny:
"We've been coming for two and a half years now and after that first year I felt like I was in the best shape that I've ever been in. My cardio endurance is back up and I'm stronger than I've ever been. I never would have imagined I'd be doing push ups and things like that and now it comes easily to me. It's amazing to see what a huge difference the boot camps have made not only with my strength but also with changes in my body.
I've lost around 15 pounds from when I first started but more importantly I'm more lean, I've gained more muscle, and changed my body composition. A lot of people think that I've lost a lot of weight but it's mostly the change in my body composition that makes me look more fit. And I'm a lot stronger. When I started I was doing overhead presses with 8-10 pound dumbbells and now I'm using 26 pounds. I can also do 10 toe pushups in a row and when I started I couldn't even do one full range push up from my knees! There's been a huge difference in my upper body strength."
Ruben:
"I was pretty large and in charge before I started coming here. I've lost about 20 pounds and I feel really good now. I'm definitely a lot stronger and I have a lot more endurance. I couldn't do a pull up when I first started and now I can do 8-10."
Overall we've definitely adopted a much healthier, active lifestyle since joining FVT. Not to mention a more positive outlook towards working out and nutrition. It's just been a very positive experience and has definitely transferred into other areas of our lives."
You guys rock! We are so proud to be a part of all you've accomplished. Keep up the great work!!
– Forest Vance
Owner, FVT Boot Camp and Personal Training