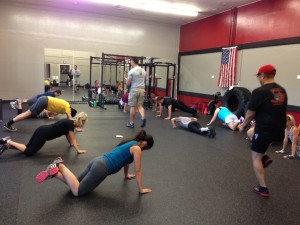 Look, I know how it is.
Sometimes, there's "stuff" you really do want to do –
Like taking that vacation to Europe.
Or learning to play a musical instrument.
Or starting a serious fitness program, and FINALLY getting into the physical shape you've always dreamed of.
And you really do intend to get around to doing that "stuff" – someday.
But the perfect time never really comes up. And many of the things on your "list", haven't happened … YET 😉
Well … if starting a serious fitness program is something that's on your list … or you know a friend, family member, or co-worker whose it is … but you just haven't "pulled the trigger" on it yet, for whatever reason … today is your lucky day. Because I'm going to make it REAL easy for 'ya to get started …
I'd like to invite you in for a complimentary, no-strings-attached, "Test a Trainer" session at the FVT studio.
This approx. 30 min. appt. will give you a chance to "test drive" our training program, and see if it's a good fit for you.
At this session, we'll:
Get the chance to meet in person, and show you around our facility
Sit down, go over your goals, and figure out exactly what you're looking to do in detail … so we can best help you get to where you want to be in the fastest and most efficient way possible
Do a complimentary body comp analysis (weight and body fat % test) with you to see where you're at now, and set some better and more concrete goals for you
Take you through a short sample FVT training session, so you can experience for yourself what our workouts are actually like
Simply email me at forest@forestvancetraining.com – or call me at 916.273.9366 – to schedule your FREE Test a Trainer session today.
The ONLY CATCH is that we have very limited space in our schedules to book these Test a Trainer sessions over the next few weeks … so, if you'd like to reserve your spot, please be sure to contact us asap while they're still available.
Thanks, and talk soon –
Forest Vance
Master of Science, Human Movement
Certified Personal Trainer
Certified Russian Kettlebell Instructor
Owner, Head Trainer, Forest Vance Training, Inc.
PS – If you're looking to lose fat, build lean and toned muscle, improve your cardio conditioning, get into a regular and consistent exercise routine, and improve your overall balance, flexibility and athleticism, our program is designed SPECIFICALLY for you!
Email me at forest@forestvancetraining.com – or call me at 916.273.9366 – to schedule your appt today.
PPS – Don't take my word for it – see what folks have to say about us on Yelp here:
=> FVT on Yelp
Then email me at forest@forestvancetraining.com – or call me at 916.273.9366 – to schedule your free Test a Trainer session!