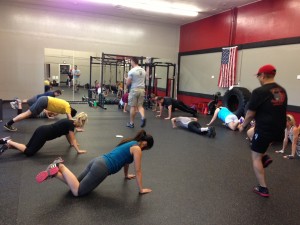 Wow! It's already the 1st of October! Amazing how time flies.
Just the other day, I was looking back at our client roster from October of 2010, our second month in business … and it was a shocking thing to see 😉 Sometimes it's easy to lose sight of all you've accomplished and be overly focused on what you gave going on day-to-day …
We had 23 active clients in October of 2013, and three years later, we've just cracked four times that number. We've also gone from a one-man show (me ;), to a team of five. And most importantly, we've been able to help so many folks like yourself live a better life and reach their fitness goals. And built a community of some really cool peeps at the FVT Studio in the process!!
So THANK YOU for being a part the FVT family. It means a lot to us. Rock on!
Now, just a couple of quick things for you today –
1 – FVT 3rd Anniversary Party
On the 19th of October at 10am, we'll be holding the 3rd annual FVT Anniversary party! All kinds of fun stuff is in store, including:
– Free boot camp workout
– Train-a-Trainer charity event
– Rapid Fat Loss Challenge winners and celebration
– Free food and drink
… and much more!!
Mark it on your calendar now, and be sure to invite a friend. We'll have more details on the day's festivities coming for you soon …
2 – FVT Pro Shop 20% off sale
The FVT Pro Shop is officially shutting down … but you can benefit! Save 20% on everything (excluding T Shirts and Perfect Foods Bars) through the end of October or 'till it's gone.
We'll be keeping the T-shirts and Perfect Foods bars, but everything else must go. Come in and grab your kettlebells, bands, and protein powder now!!
That's it for now! Keep training hard, and talk soon –
Forest
PS – I just put up a new intro video on the website. Would love to get your honest feedback on it. Seriously, good or bad, check it out real quick:
And let me know what you think.  Thanks!