How's your week going so far?
Hope your workout, meal planning, and overall fitness program is off to a strong start!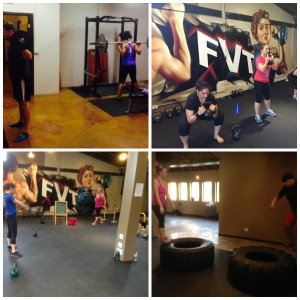 As you probably know, we've gotten away from doing one-on-one training at the FVT studio for the last couple of years. Our "semi-private", small group program has kind of been our go-to for folks who have been interested in going the private training route … and this has generally worked really well.
BUT, there is, without a doubt, still a demand for in-person, one-on-one training.
We find that there are some people who are interested in doing semi private training, but the times we have available just don't fit their hectic schedule.
Some folks want to work on a very specfic goal or skill – kettlebell training, for example – and sometimes, this is best to do in a one-on-one setting.
Maybe a person is working around a certain type of injury, and just modifying the workout that we're doing in a group is not possible. In this case, the private training can also be the best way to go.
So, we have decided to open back up a few private training times per week. If you are interested, read the details below carefully, and see if you think this program is a good fit for what you are looking for.
If so, submit your application using the link below, and I'll get back to you within 24 hours!
Thanks –
– Forest Vance
Owner, Head Trainer, FVT Boot Camp and Personal Training
###
One-on-One Training at FVT – Program Details
1 – There is a LIMIT as to how many people we can accept into the program. Obviously, private training is much more time-intensive than group training, so we can only work with so many folks. We'll be opening up 10 training session times per week to start (which will likely work out to space to work with 3-5 private training clients, depending on how many times per week each person ends up working out at the studio).
2 – We are looking for folks with a positive attitude and a willingness to work hard. Seriously. You have to want it and show up at every session, ready to rock. If not, it will not be a good fit.
3 – The workouts will be 100% individualized for YOU. Any goal, anything you want to work on – that's in our skill set, of course – we'll make it happen.
4 – We will work with you as needed on your nutrition, to help you get that side of things in order and get the best possible results.
5 – We will also take your body comp (weight / body fat) once per month to make sure you are on the right track to reaching your goals.
6 – The cost will be fair, and you will get a BIG time return on investment from this service … that being said, it will NOT be cheap. (Cost will be in the range of $59-69/session – depending on who you are working with – which breaks down to, on a monthly basis, $236-$828.)
Think the program could be right for you? Awesome! Start by filling out your application at the link below:
http://www.emailmeform.com/builder/form/8sNT10lODR4efZQzVnaIqW3
And I'll get back to you within 24 hours to schedule a 15 minute "strategy session" over the phone.
Submit your application to the FVT One-on-One training program here:
http://www.emailmeform.com/builder/form/8sNT10lODR4efZQzVnaIqW3