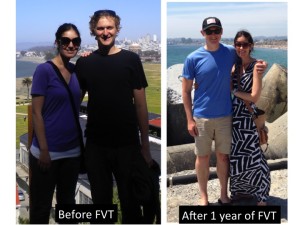 Before John and Stephanie started working out at FVT, their exercise routine consisted mainly of walking the dog. Their lives were busy with work and they weren't putting a lot of focus on themselves. But with their wedding day fast approaching they were motivated to make fitness more of a priority and joined FVT.
One of the things they didn't like about working out at gyms in the past was that there was no coaching or direction. For John the free weights were a bit intimidating because he didn't know how to put a workout together using them. At FVT they get a solid, full body workout in 45 minutes and coaching on proper form.
John: FVT has given us the accountability that we needed to get our workouts in. We like knowing that boot camp is at a certain time and if we don't show up, we're going to get called out on it. It's extra motivation to make fitness more of a priority in our busy schedule.
Stephanie: Before we started I wondered if I'd have a hard time keeping up. That's why I really liked that we had the option of starting with semi-private training and as we got in better shape we could move up to the boot camps. There's people here at all different fitness levels and backgrounds and it's nice to be able to have options.
Here's what they had to say about how their lives have changed after one year at FVT:
John: I've gone from 20% to 15% bodyfat. I've lost 6 pounds of fat and gained 25 pounds of muscle! People have definitely noticed a change. We've also become more active outside of boot camps and made physical activity a bigger part of our lives. We like to go hiking and biking now. I've also gotten into obstacle races. I did the Go Ruck Challenge and was on team FVT for the Tough Mudder in Tahoe. I also have plans to do the Spartan Race. For us working out at FVT has now become part of our routine. We like getting to work out together and it's a great start to our day.
Stephanie: We definitely challenge ourselves more now since we've started boot camp. Like when we moved and decided to move the furniture by ourselves. I never would have done that before I started lifting weights at FVT! When I started boot camps I was only able to press a 5 pound kettlebell overhead. Now I can press 18 pounds. I have more energy too. The days that I get to do boot camps in the morning are my most productive days because I feel more alert and energized afterwards.
You guys rock! We are so proud to be a part of all you've accomplished. Keep up the great work!!
– The FVT Team