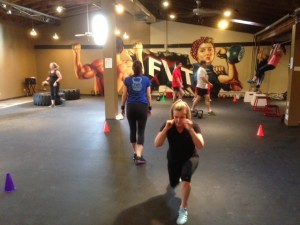 November 2015 FVT Challenge Workout
– 20 KB swings (24k for men, 16k for women)
– 10 recline rows
– 5 KB presses / side (16k for men, 8k for women)
– 15 box jumps to approx 16 in box
– 12 walking lunges per side
– 7 burpees
– 15 push ups
– 7 hanging knee raises
– 30 jumping jacks
Do four rounds as fast as possible.
Notes:
– Use caution and good judgement when picking your weight for the swings and the presses. The weights are SUGGESTED, and a great goal to work towards … but you can certainly use a smaller weight if you are still working on your form or just getting started.
– The recline rows should be done in a totally horizontal-to-the-floor body position if possible
– Make sure to get all the way down and touch the ground on each burpee
Good luck! Results will be posted later this week.
- Forest Vance
Owner, FVT Boot Camp and Personal Training
PS -  Speaking of Challenge Workouts … the ULTIMATE Challenge Workout is coming back to FVT, and registration will be opening soon!
Here's the "big idea" behind the FVT Ultimate Challenge Workout(s) -
– It's an "ultimate" test of your overall fitness – strength, endurance, and much more. Everything from feats of strength like pull ups and pressing heavy KBs, to
running a 5k, to everything in between
– We will have a NEW "half" Challenge – which will include a 1 mile run/walk, and a single, approx 60 minute boot camp workout … in addition to the "full" version,
which will include a 5k run and TWO 60 minute boot camps
– The proceeds from your registration fee will go towards a local charity (this time around, we're supporting the Sacramento SPCA)
– It's for current members, their friends, family, co-workers, and anyone else who is up for the challenge
– We'll hold the event at the FVT studio on X and 16th – and the surrounding areas – on a Saturday morning in early January 2016 (exact date and time TBA)
– We'll also get together as a group for food, drink and fun after the Ultimate Challenge
Sound awesome? You bet it does!! Can't wait – it's going to be the best one yet!!