Wrapped up our Spring 2016 28 Day Rapid Fat Loss Challenge last night –
Wanted to give a big shout – out to our winners!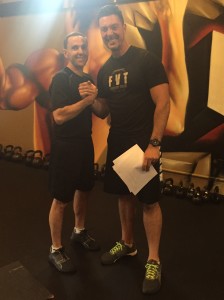 I can't believe this has happened two times in a row … but AGAIN, as earlier in the year, we ended up with three participants:
— Jonathan L
— Ruben M
— Greg C
SO close in the final standings, that we that we could not decide on a winner!
So, we made the executive decision to declare a TIE for 1st place, and split the winnings evenly … so all THREE of our winners got $200 each!
CONGRATS GUYS!!!
And GREAT JOB to ALL who participated in this Challenge.  We hope that this is just the start of some new clean eating and consistent training habits, that will help you reach your ultimate fat loss goals and stay there.
See you for our next Challenge in the Fall of 2016 –
– The FVT Team