Yesterday, at the 715am Lean and Jacked workout, Keith P deadlifted nearly double his bodyweight – 325 at 179!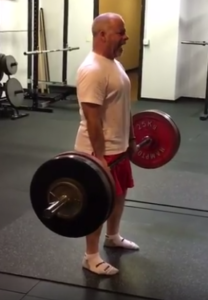 Crazy thing is, until about 2 years ago, Keith had NEVER touched a barbell.
In fact, he had very little experience working out, and started with us at the age of 52.
Now he is one of our most dedicated clients … in addition to this personal record deadlift, he's lost almost 40 pounds, completed several Spartan races, and much more.
What's his secret?
One of the big ones (and this is straight from Keith, feel free to ask him yourself!) is our Lean and Jacked program.
He does it 2x per week religously, and swears by it as being a big part of the progress he's made.
This program is for intermediate-to-advanced clients who want to get stronger, and take their results to the next level.
Whether you want to complete a Spartan race this year, or hit a double bodyweight deadlift, or whatever else – you should consider getting involved.
I am going to give you an opportunity to try it out, if you are interested. We have never done this before, but we're doing to run it as a test. We are going to hold Tryouts for the Lean and Jacked group this month, from the 15th thru the 26th of May.
If you are interested, here is what you need to do:
1 – Contact me HERE => http://www.forestvancetraining.com/contact
2 – Let me know WHY you want to get involved, and why you think it would be a good fit for your goals and what you are trying to accomplish.
3 – From there, we will figure out if it's an initial fit, then we will schedule a phone call to chat a bit more. THEN – if we come to the conclusion together that it could be a good fit AFTER we chat over the phone – you can come to a workout to try it out. We currently offer the program at 715 AM on Mon – Weds – Fri, and 4 PM on Tues – Thurs.
4 – You CANNOT simply sign up on the schedule, and drop in to try a workout, without talking to me about it first. We need to make sure it's a good fit for what you are looking to do, explain the pricing structure to you if you were to continue, etc – BEFORE you attend a group. If you just show up and expect to hop in, 1 – I will tell you no, and 2 – you will be required to do 10,000 kettlebell swings as a penalty for not following instructions.
Fair enough? 🙂 hahaha cool. Seriously – contact me here if you are interested:
=> http://www.forestvancetraining.com/contact
Because for the right people, this is an AWESOME opportunity!
We look forward to hearing from you!
– Forest Vance
Owner, FVT Boot Camp and Personal Training