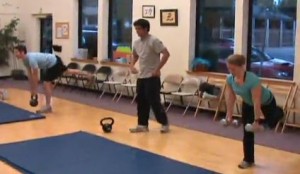 Don't forget … each month, we're now repeating the challenge from three months prior … so this month's workout is the same as the January 2011's:
April 2011 Challenge Workout
10 Push Ups (knees for gals, standard for guys)
20 KB Swings
30 Lunges (30 total … your choice of lunge type – forward, backward, walking, etc.)
40 Cross Body Mountain Climbers (one knee-to-elbow move = one rep)
50 Body Weight Squats
Do as many rounds as possible in 20 minutes
Last month was the first time we repeated a challenge workout … and over 90% of you beat your previous time! Let's keep the streak going this month … good luck … and stay tuned for results later this week –
P.S. Have you grabbed your copy of my 7 Day Rapid Fat Loss Blueprint yet? To claim yours FREE today – and to get signed up for my weekly newsletter – just drop your name and best email in the box at the upper right hand corner of the page NOW.