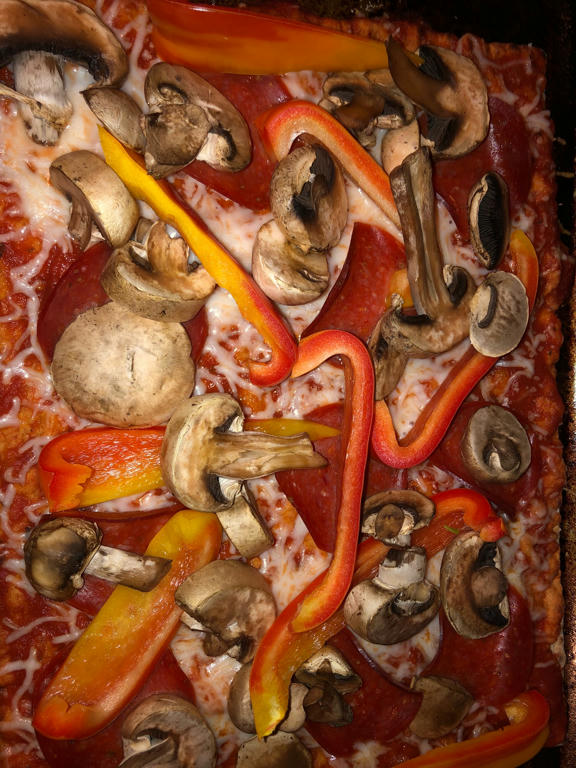 This bro meal is SO GOOD!!! You will honestly not believe the calorie / macro breakdown:
355 calories
24 g protein
33 g carbs
11 g fat
INGREDIENTS
– 1 flat bread (the one I found is about 100 calories and 20 grams of carbs per slice)
– 1/4 cup "low-moisture part-skim" Mozzarella cheese
– 1/4 cup pizza sauce
– 16 turkey small pepperonis
– 1/2 cup spinach + 1/8 medium onion OR 1/2 bell pepper + 1/4 cup musrooms
"Crisp" the flatbread in the oven for 3 minutes at 300 degrees. Add your ingredients on top of the flatbread – sauce first, then cheese, then turkey pepperoni, then the veggies. Cook the pizza for about 10 more minutes at 300 degrees. Enjoy!
*This bro meal was inspired by this video from Greg Doucette, to give credit where it's due – check it out for some additional tips: https://youtu.be/EEHyY3dukic
Seriously – this is an amazing meal, it tastes great, and you could eat it every day if you wanted and still lose weight!
If you need more help getting your nutrition on track, it's something we focus on with our personal training clients at FVT. More info and try our program at the link in our at the link below:
-> http://bit.ly/14dayjump2021

Train hard, talk soon –
-Forest and the FVT Team
ForestVanceTraining.com