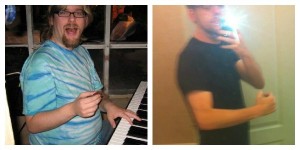 Erik dropped 60 pounds and 16% body fat @ FVT
Hope you had a great holiday weekend, got to enjoy some time with your family and friends, relax and have fun, and maybe even get in a workout or two! 😉
Today's message is about a new program we're rolling out this week @ FVT. It's been a long time in the making, and I'm super excited about it. It's quite honestly like nothing we've ever done before.
But before we continue, I want to let you know that this program is for very serious people only. It's going to help a few select people get some AMAZING results … but it's ONLY for folks who are seriously dedicated and ready to make a big change in their lives.
Still with me?
Cool. Let me break it down for you.
Maybe you have a big event coming up.
Maybe you're getting married.
Maybe your health is at risk.
Maybe you want to do this for your kids.
Maybe you're just fed up with being out of shape and not having the body you want.
Maybe you're sick of not having the mental focus that you want to do your work, to do your everyday tasks, to take care of your family.
At the end of the day, whatever your motivation, you're ready to make a change and you're ready to get really serious about it.
This program is designed specifically for you.
Now introducing …
The FVT Complete Body Transformation Program
Here's what this new and exciting program includes:
Two private training sessions/ week – you'll get complete, undivided, 100% one-on-one attention to your goals and specific training needs
Unlimited semi private group sessions/week – so that you can work out in a small group setting and get that extra push and accountability from the folks you're working with … but where the workout is still geared towards your specific goals, fitness level, etc.
Unlimited boot camp sessions/week – enjoy the benefits of working out in a slightly larger group … you'll get a fun and high intensity workout, and work towards your fitness goals with a like-minded group of peeps
Nutrition coaching – we'll get you 100% dialed in on your eating (a HUGE component of reaching your goals), give you on-going feedback on exactly what you should be doing, and a specific plan to get you where you want to be
Access to ALL of our programs and products as needed – Ebooks, video-based programs, physical books, DVDs. Any of these, as needed, you'll get a copy of included when you sign up for this program.
One year membership to the new-and-improved-for-2013 FVT Coaching Club – you'll get three brand new FVT workouts per week on an ongoing basis, so that if you're away from the gym, you'll always have a workout to do on your own.
If you think this program could be right for you, and you're interested in learning more, contact us by calling (916) 273-9366 or leaving a message here, and we'll schedule a phone consultation to chat further and see if it's a good fit.
As I mentioned before, this program is going to take a serious commitment of time and resources from BOTH of us … that being said, we have space for only two people in this program.  It's for a very specific person … BUT … this message is going out to about 100 active FVT clients and over 1,000 folks on our local email list … so in other words, if you are interested, it's probably in your best interest to contact us ASAP before the available spots fill up! 🙂
Thank you so much, look forward to hearing from you soon.
– Forest Vance
Master of Science, Human Movement
Certified Personal Trainer
Certified Fitness Nutrition Coach
Certified Russian Kettlebell Instructor
Owner, head trainer, Forest Vance Training, Inc.