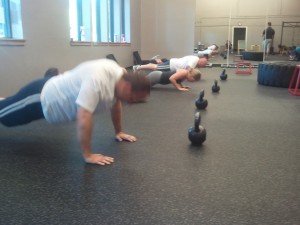 Here's a question we get frequently –
"How many kcals do I burn in a boot camp workout?"
The average 150 pound person burns around 400-500 kcals in a typical 45 min boot camp workout – depending on a variety of individual factors, like lean body mass level, etc.
Just for fun though, I thought I'd put together a 1000+ calorie workout for you.  Whether you partied too hard last weekend, or you're just feeling extra motivated and want to kick your training to the next level, this could be just what you're looking for.
You could do this entire workout on your own … OR you could simply tack on the cardio and yoga portion AFTER one of your workouts at the FVT studio and have a full 1000+ kcal workout day!
Check it out –
###
The 1036 Calorie Workout
1 – Do a 15 minute dynamic warm up – joint mobility, self myofascial release, dynamic stretching – check out this article if you need more details (90 calories burned)
2 – Do 35 minutes of high-intensity kettlebell/body weight training – something like the workout below (336 kcals burned):
BTW – the workout below is much like what we do in our group training sessions at the studio … if you've been considering giving them a try, this week you can do so at a special rate – check that out HERE
*Warm up – Do five Turkish Get Ups on each side. Start easy – with no weight at all or a light weight – and work up to a heavier weight with each rep. Switch sides after each rep.
*Perform the first exercise in each pairing. Immediately move to the next exercise (or exercises) and complete the prescribed number of reps. Rest :30 and repeat each sequence a total of three times.
1a: 8 reverse lunges
1b: pull ups – one rep short of failure
2a: 6 kettlebell presses
2b: 20 body weight squats (explosive tempo)
3a: 25 kettlebell swings (your choice)
3b: 15 push ups
3 – Run 5k – 3.2 miles – at a medium (6 mph) pace (504 calories burned)
If you are not into running, you could also do about 35 minutes of medium-to-high intensity biking, swimming, rowing, etc.
4 – Finish with 15 minutes of yoga work – here is a great sequence for you to try (106 calories burned):
###
If you ate a little too much cake last weekend … or if you're simply looking to take your workouts to the next level … this 1036 kcal workout could be just what you need!
Hope that helps, and talk soon –
Forest
PS – We have a special limited-time offer on our Semi Private training program going through tomorrow night.  Several folks have already hopped on it and there are just a few spots left.  If you're interested, get details and sign up here:
=> Semi Private Training at FVT (special offer, time sensitive)