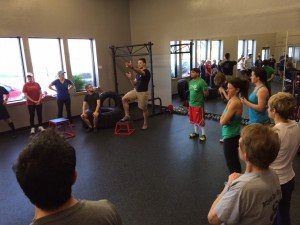 Just over 48 hours left to sign up for our upcoming 30 Day Rapid Fat Loss Challenge. Get all the details and reserve your spot here:
=> FVT 30 Day Rapid Fat Loss Challenge
We have been getting a lot of questions about the challenge. So I thought I would go through them and try to answer your most frequently asked questions.
FVT 30 Day Rapid Fat Loss Challenge Frequently Asked Questions
Q: Who is the challenge open to?
A: Anyone who wants to sign up! Current and past clients, their friends and family, newsletter subscribers, Facebook followers, etc.
Q: What if I can't make the kick-off meeting/bonus workouts/completion party/etc.?
A: No worries. Come to what you can – you can still sign up and participate – and get some awesome rapid fat loss results!
Q: Why is the price higher for new or inactive/returning clients?
A: The price for new/inactive clients includes four additional group personal training/boot camp sessions, meaning you'll get seven boot camps total over the 30 days
as a new/inactive client.
We have found from previous challenges that folks who work out at our studio consistently over the 30 day period of the challenge get the best results. So, we want to set you up for maximum success.
Q: This looks AWESOME! And INCREDIBLY CHEAP! Why?
A: You're right – this is an incredible deal. To be completely transparent, our goal is not to make money with this project. It's:
— To help as many folks as possible reach their fat loss goals
— To get current/past clients to get their friends and family involved in one of our programs, and
— To further establish Forest Vance Training, Inc. as one of the top boot camp and personal training locations in Sacramento.
We know that you'll love our program. We have full confidence that we'll get multiple new on-going clients from this project – so that's why we can offer you such an
amazing deal.
Get all the details on the Challenge and reserve your spot here:
=> FVT 30 Day Rapid Fat Loss Challlenge
That's it for now! Train hard, and talk soon –
Forest