Amazing, exciting, crazy times.  We welcomed a new member of the Vance clan, a beautiful baby girl, into the world this last Thursday night!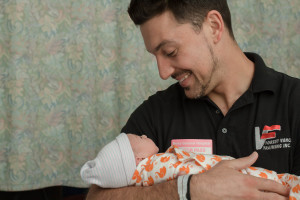 Getting a little more settled now at home and had a quick sec, so thought I'd shoot ya message with the great news 🙂
You may have noticed that the regular FVT email newsletter hasn't gone out for a few days … but just wanted to touch base and let ya know that as soon as we're into some semblance of a routine, I'll be back to sending you our regular free workouts, meal planning tips, motivation, and more.
In the meantime, here's quick a little recap of what we had going early last week, in case you missed anything –
=> Kettlebells, Barbells and the 80/20 Rule
How to apply the Paretto Principle (otherwise known as the 80/20 rule) to your workout programming
=> How to Turn Your Fitness Passions Into Profits
Post for trainers and fit pros – exactly what I would do if I had to start my fitness business over again
=> Top 5 WORST Foods For Your Joints
The top 5 worst foods for your joints – #4 might surprise you!
=> August 2014 FVT Challenge Workout
Another killer monthly FVT challenge workout – are you up for it? Give it a try and let us know how you do!!
That's it for now, off to spend some family time. Train hard, and talk soon –
– Forest Vance, MS, RKC II
ForestVance.com
ForestVanceTraining.com