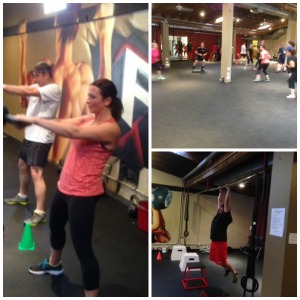 Hey!
Quick couple things for you today –
1 – Have you seen this article?  It seems like we get questions at almost every early morning boot camp about what to eat for breakfast.  Here are 10 quick, easy and healthy breakfast ideas to help you start your day right:
=> 10 Quick, Healthy and Easy Breakfast Ideas
2 – Also getting lots of questions about the free Bring-A-Buddy Boot Camp we're holding at our January 31st Grand Opening Party … YES you need to sign up ahead of time if you'd like to attend. (The free boot camp, that is.  You are welcome to come by and check out our new spot any time that day between 9am and 12pm.)
We are cutting off the registration for the boot camp at 30 people TOTAL, so be sure to click the link below and grab a spot ASAP if you want in:
=> Register for the FREE Bring-a-Buddy Boot Camp at FVT on January 31st at 10am here
And, please DO NOT fill out the form for your friend / family member / co-worker / etc … forward this message their way and have THEM fill it out themselves.  Thanks!
That's it for now!  Have a great day, and talk soon –
– Forest