Jessica Biel is well known for her beautiful and athletic body. And she always seems to be in amazing shape.
She's not one to shy away from an intense workout. And guess what she includes in her training routine?
That's right – kettlebells.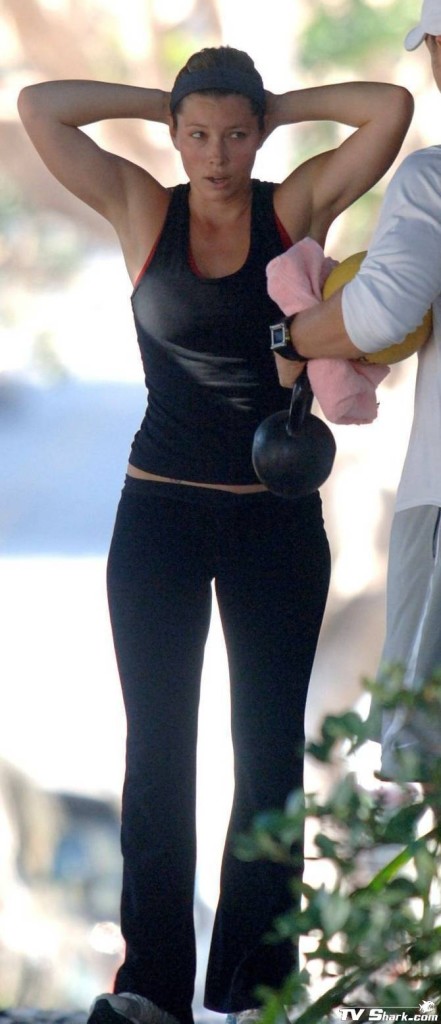 Kettlebells are an AMAZING way to exercise that can help you train all of your major muscle groups all at once, burn TONS of fat, and get you a very efficient workouts in an extremely short amount of time.
In fact, a recent study demonstrated that kettlebell movements burn about 20 calories per minute – more than DOUBLE what spinning class will get you!
And that's one of the big reasons why we are all about kettlebell training at FVT.
The only thing that sometimes holds people back from training with KBs, is learning how to use them properly. Getting some basic technqiues down that will help you learn how to use them safely and effectively can be a challenge.
Well – if YOU are looking to learn how to use kettlebells to get the kind of results Jessica Biel does, but have shyed away from using them in the past, because you wanted to make sure that your form and technique was dialed in first … great news.  We have a Kettlebells for Fat Loss Workshop coming up on June 27th at FVT Boot Camp and Personal Training.
At the workshop, you'll learn all the basics of safe and effective kettlebell training – so that you can start using them right away to burn more fat in less time.
And, you'll even get a copy of my best-selling kettlebell training course, "Ultimate Kettlebell Challenge Workouts" – which includes over 50 workouts you can do with your kettlebell(s) – FREE when you sign up!
More info at the link below:
=> Kettlebells for Fat Loss Workshop at FVT June 27th
Oh, one more thing – if you want to grab a spot, make sure you do it quick – we're limiting sign ups to 15, and we only have 9 spots left as I write this email. It's first-come-first-serve, so to guarantee your spot, don't delay.
That's it for today. Train hard, and talk soon –
– Forest Vance
Level 2 Certified Russian Kettlebell Instructor
Owner, FVT Boot Camp and Personal Training
PS – If you are interested in learning how to use kettlebells safely and effectively to reach your fitness goals, but can't make it to our workshop on the 27th, let us know – as I mentioned at the top of this message, we use KBs as a part of ALL of our workouts at the FVT studio. Contact me HERE to get more info on our programs and to schedule a free Test-a-Trainer session!