It's Labor Day.
That's why we kicked it off with some HARD WORK!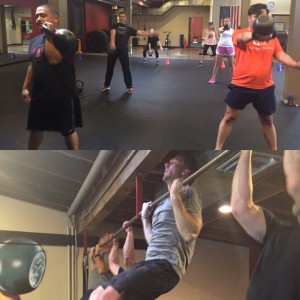 But since you missed this morning's workout at FVT – and you're probably training at home instead – I'm going to bring the gym to YOU.
All you need is about 20 minutes to get it done:
#
Labor Day Bodyweight Bootcamp Workout
Set your timer for 40 seconds on / 20 seconds off. You'll do as many reps as you can of each exercise in 40 seconds, rest for 20 between moves (and 60 between rounds), and complete the full circuit three times:
— skater hops
— close push ups
— swing lunges
— recline row
— burpee
— cross body mountain climber
#
Crank that one today – or ANY time – to burn some fat, build some lean muscle, and skyrocket your metabolism.
And keep training hard! –
– Forest Vance
Owner, FVT Boot Camp
Certified Personal Trainer
ForestVance.com
PS – We will be accepting applications for the FVT Elite Coaching program later this week.
This is where we work together one-on-one to help you reach your fitness goals.
It's all done via distance format – so if you're committed to making it happen, this program is open to folks anywhere in the world.
Keep an eye on your email inbox if you're interested.