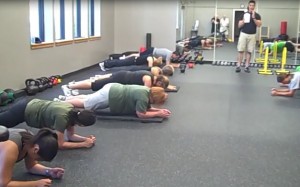 If you:
Are a beginner/intermediate – level exerciser, looking to lose weight, tone up, and get into great shape …
Like the idea of group training … but aren't quite ready for (or maybe even are a bit intimidated by) a traditional 'boot camp' setting …
Are just getting back into your workout routine … and need a little extra individual attention …
Our new semi-private training program is designed SPECIFICALLY for you.
It's a more individualized, more focused, and more specific training plan than is typically offered in a medium-to-large boot camp setting. And, I truly believe that this is the "bridge" between private training and boot camp that so many of you have been waiting for …
Just a few more details on the program:
Each group will be made up of no more than five people.
You'll get lots of individual attention … we typically run around 10 to 12 folks in our boot camp classes … so you can

really

make sure your form is dialed in, and you're doing all the exercises

exactly

right …
The small group setting with like-minded individuals also makes for a more fun and faster paced workout than a traditional one-on-one setting.
If you are interested, contact us by clicking here. We'll get back to 'ya asap, and set up a complimentary phone consult to see if the program is right for you!
Thanks –
The FVT Team