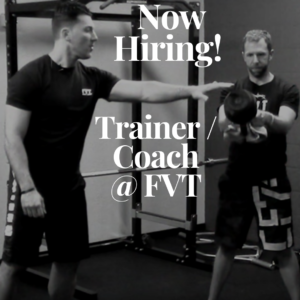 We are looking for a highly qualified trainer/coach to join our team!
Certification with a nationally accredited organization and/or degree in a related field is preferred.
Prior experience working in the fitness industry is NOT necessary.
The following things however are CRITICALLY important:
– passion for health and fitness
– positive attitude
– high energy
– outgoing personality
– high level of personal fitness and health
– comfortable speaking in front of groups
– punctuality
– professionalism
– reliability
– willing to work nights and/or weekends
– "beginner's mind" mentality, always willing to learn
If you think that you or someone you know could be a good fit, the first step is to simply fill out the form linked to below with:
– name
– phone #
– what makes you a perfect fit for the job
http://www.emailmeform.com/builder/form/705723
We will contact you and set up a 5 min appt to drop off a formal resume at the studio from there.
Thanks for your consideration, and helping to spread the word!
– Forest Vance
Owner, FVT Boot Camp and Personal Training