Pam has been a superstar client at FVT for the last several years.
In 2019 she is working towards new goals and is more fired up than ever!!
I wanted to share an update on her original success story that we published a couple of years ago.
Here is her full story – with some AMAZING before and after pictures.
YOU ROCK Pam, we appreciate you so much, and here is to your continued success!!!
– Forest and the FVT Team
#
Meet Pam 🙂
I was working, trying to have kids, trying to have it all. I gained a ton of weight during fertility treatments and trying to have biological children (we adopted the best kids I could have ever hoped for!). However, I never really addressed my weight gain and what to do about it. And as anyone with kids knows, kid diets are very different from your pre-kid diets.
PAM – BEFORE FVT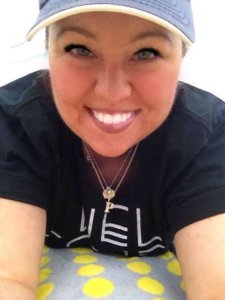 And….I LOVE food…and carbs. My whole family loves food and especially sugary, carb heavy foods. They made me feel happy (and probably still do!). I hadn't even realized how much weight I had gained on my 5'1" frame until most of my clothes in my closet weren't fitting anymore. Then I was depressed, and that came with its whole own host of diet and exercise problems. I didn't know where to start. Once my scale hit 180 pounds, I knew something HAD to change.
So, I always tell anyone who will listen just start walking. Then running even if just for a minute, then increase by a minute a week. And just don't buy unhealthy snacks or sugars to keep at home – if you don't have them you will have to get up, go out and go to a restaurant. And that is what I did – and I felt better emotionally and physically. But I did not know where to go from there. I was in my 40's and had never been to a gym, had more weight to lose and didn't know how to build muscle to improve my metabolism.
I searched on google and found a few gyms in Sacramento, and after contacting a few, decided to go meet Forest. He was great. He was welcoming, not shaming, and confident that I could reach my weight loss goals. I told him I had never lifted a dumbbell before, must less a kettlebell, but that was ok. The classes at FVT are small, tailored to you, and the instructors are incredible and give you personalized help and input. But they don't let you slack off either. After training at FVT for about a year, my weight was in the 120's – I COULD NOT BELIEVE IT! I was so happy both mentally and physically, and loved shopping for clothes again (including workout clothes!). I bought a bikini (ok like 10 of them), something I had not done in 20 years! I know it shouldn't really matter, that we do love ourselves for who we are, but man it felt good. The next year, my husband and I did our first Spartan Race, a feat I would have never imagined for myself, and know I would not have done it without the support of Forest and the people at the gym. Everyone there is amazing.
PAM TODAY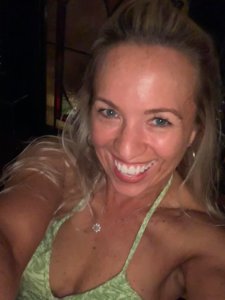 I would say be consistent, don't give up even when life throws you a curveball (or two), and believe that you are worth it, because you are. I am now working on very precise fitness goals – losing 50+ pounds was hard work for sure – but now I'm attacking my body fat percentage. I feel better, look better, have stopped needing to take blood pressure and cholesterol medications, and have so much more confidence (hello sundress season!). I am so glad I found Forest and his team who have never wavered in their commitment to my success, even as those goals change over the years.