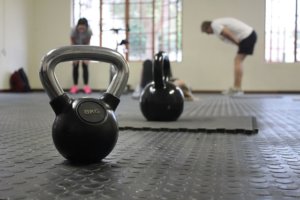 This is part two of an article series on the new FVT 14 Day "Rapid Shred" protocol.
(Link to the first post at the bottom of this article if you missed it)
If you follow the protocol exactly as outlined, you can expect to lose 2-3% of of your current bodyweight in 14 days.
We are going to be doing some methods you may be familiar with, some not.
Just trust the process, and let's make it happen 🙂
14 DAY RAPID SHRED PROTOCOL – PART 2
"Visual food log" – everything you eat and drink, every day.
When people ask me the first thing they should do if they want to start losing fat, this is always it.
Not do extra cardio.
Not cut the carbs.
It's LOG YOUR FOOD.
Because your DIET has WAAAY more impact on your fat loss results, than your activity level does.
Burning more calories each day, and building muscle so that your resting metabolism is faster, and all that kind of stuff IS important – and we'll get to that in just a bit in this report.
But FIRST, if we can focus on your diet, we are going to be in business.
There are a lot of options for logging your food.
Most recently, I have been experimenting with doing a VISUAL food log – as in, taking a picture of everything I eat – and this has been working great. It's very fast and easy, and it's a super simple way to keep track. There are also apps out there – Bitesnap is one, there are also others – that will help you do this, and help you keep track of actual calories and macros easily as well.
This practice is going to build awareness of what you are eating, and when, and so much more.
You will understand the benefits when you do it.
Just do it!
#
In part 3, we'll talk about my "rules of lean eating", where you'll learn more about exactly WHAT foods you should be eating, for best results.
Stay tuned!
– Forest and the FVT Team
PS – Want more support and accountability in your 14 Day Rapid Shred process? Join us => FVT 14 Day "Spring Sprint"
PPS – Read part 1 of this article series at the link below if you missed it:
https://www.forestvancetraining.com/2019/02/14-day-rapid-shred-protocol-part-1.html